German cuisine has a lot going for it -- we're always down for some cheesy spaetzle or a plate of bratwurst. But the underdog crown jewel of German cuisine might be something that may appear more Italian than German. We're talking about spaghettieis, or gelato that looks exactly like spaghetti.
Check out this beauty, now available at Dolce Gelateria in New York City: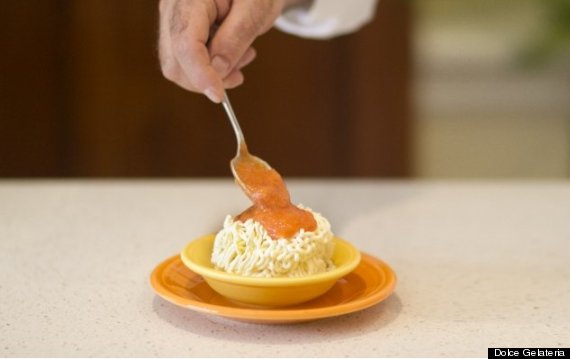 According to Conde Nast Traveler, spaghettieis is a staple of every German summer. The treat was invented in 1969 and traditionally consists of vanilla ice cream that is drawn through a grinder or pasta maker, topped with a strawberry- or raspberry-flavored sauce. The "spaghetti" can be topped with coconut flakes, to imitate the likeness of grated cheese.
Dolce Gelateria's version even comes with chocolate gelato that resembles meatballs.
Curious how this sweet treat is made? Check out this video:
BEFORE YOU GO
PHOTO GALLERY
Ice Cream Recipes