Fans hoping to watch their favorite Canadian minor league baseball team got a little extra bang for their buck this week when what some witnesses described as a UFO flew through the sky behind the right field fence.
The sighting occurred in the sixth inning of a game between the Vancouver Canadians and the Everett Aquasox at the Scotiabank Field at Nat Bailey Stadium in Vancouver on Sept. 3. The Vancouver Sun playfully called the appearance of the object a "cosmic intervention," noting that after the sighting the home team went on to win the game.
UFO over RF fence @vancanadians #beateverett ... C's lead 2:1 with 1 out in the bottom of 6 with bases loaded! pic.twitter.com/Jeh88dHvNZ

— KayDee (@kdkeitel) September 4, 2013
Video posted online shows a fairly saucer-like object ringed with lights. The object is visible for a few seconds, but the camera does not stay trained on it long enough to get a good look.
Fans at the game also reported seeing something in the sky, with some taking it as a lucky sign for their team.
Rumour has it the alien spaceship beyond right field is from Everett. #BeatEverett

— Vancouver Canadians (@vancanadians) September 4, 2013
@Brennnasty hovered for awhile, going up and down then gone...weird, but lucky, C's have tacked on 4 runs since it made appearance #luckyufo

— Charlie Caskey (@CharlieCaskey) September 4, 2013
British Columbia local news site The Province speculated that the "levitating," "shiny blue something" may have been a kite or a remote-controlled helicopter. But so far, no one has come forward to offer an official explanation.
UPDATE: The Huffington Post reached out to Marc Dantonio, chief photo/video analyst for the Mutual UFO Network, the world's largest UFO investigative organization. He also consults on many U.S. government and military projects as well as network television UFO specials.
"I examined the video segment. I think that if someone was trying to create a UFO hoax using computer generated imagery, then they chose a very poor video with which to do it since there was no reaction at all from anyone, nor the videographer," said Dantonio.
Dantonio told HuffPost in an email that the Canadian UFO is very much like one that he created for National Geographic a few years ago.
"I suspect much more strongly, based on the way it was sideslipping to our right a bit while leaning slightly to that side, that this was likely either a lit up kite or a small drone-type object like we created for a Nat Geo show. This object's behavior matches either one of those possibilities in the short video snip of it here that we can see.
"The stability makes this more likely a flying small hobby-type drone."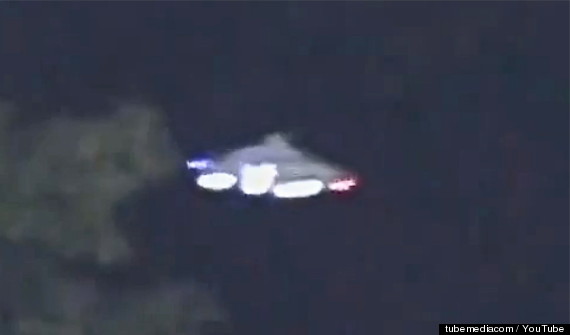 (H/t MSN)