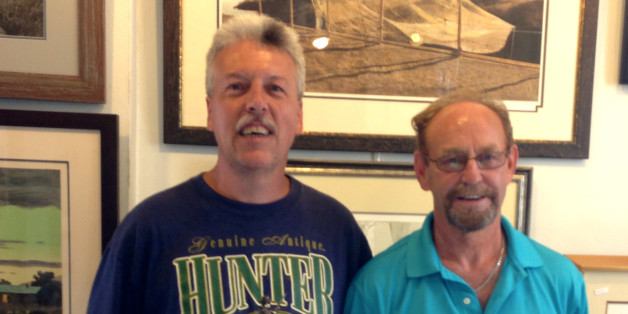 A deal made between three hunting buddies after one great weekend could wind up making those friends millions, thanks to a pie-in-the-sky pact forged in the Canadian forest.
More than six years ago, Olen Grimes went on a bear-hunting trip to Canada with a couple of friends. "We had such a fantastic time on that trip. As we were leaving, one of us said, 'Well gee, we need to come up with a hunting product, so we can get rich and go hunting all the time,' " Grimes told The Huffington Post.
The three friends agreed they'd split the profits if one of them ever thought of that million dollar idea. Just a few minutes later, Grimes said, he came up with the concept for the Air-brella.
Here's what it looks like: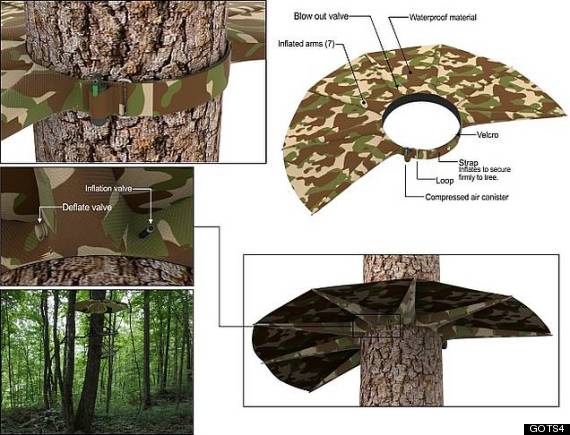 Now Grimes, who is 51 years old and owns an art gallery in Kennett Square, Pa., has patented the "Air-brella," an inflatable umbrella that latches on to trees or other structures in order to shelter hunters who spend long hours waiting for game to pass through the area.
What distinguishes the invention from traditional hunting umbrellas, which can take several minutes to set up, is that the Air-brella inflates in a matter of seconds thanks to high pressure C02 containers, Grimes explained. It is also easy to transport and can fit inside a pocket or fanny pack when collapsed. With 47 million hunters and fishers in the United States, according to a survey from the U.S. Fish & Wildlife Service, the invention has big potential.
Grimes plans to sell the Air-brella for around $39 a pop, and if his company captures just 2 percent of the hunting and fishing market, that would mean revenues of $37 million.
Grimes had no legal obligation to include his hunting buddies in the venture, especially since getting a patent for the Air-brella involved over two years of research, he said, as well as partnering with entrepreneur Steve Burkes, who previously founded startups in the technology space. But he "felt it was the right thing to do." He brought his friends Gary Scott and Tom Kule in as equal shareholders.
"I didn't have to do it," Grime said. "[But] I'm a man of my word."
The Air-brella will be available online in November, Grimes told HuffPost, and the company is also fishing for licensing agreements with major retailers.
(Hat tip: The Kennett Paper.)
BEFORE YOU GO
PHOTO GALLERY
Best States For Female Entrepreneurs