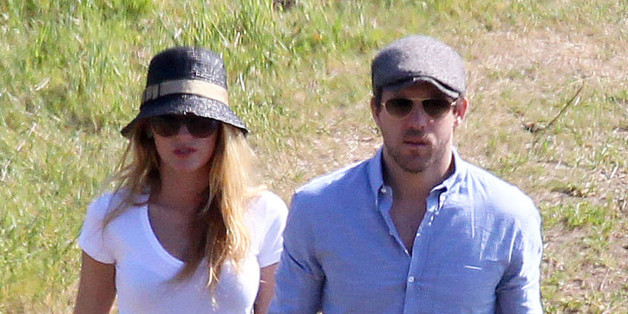 It was a special day for Blake Lively and Ryan Reynolds as the couple celebrated their first wedding anniversary on Sept. 9.
According to People, the Reynolds toasted to their marriage down South, where they tied the knot last year. They were spotted in Charleston, S.C., over the weekend before moving on to Savannah, Ga., where they enjoyed a lunch date at Mrs. Wilkes Dining Room.
The owner of the restaurant, Marcia Thompson, tells People that Lively, 26, and Reynolds, 36, "were absolutely darling."
"I asked them what they were doing in Savannah, and she said it was their anniversary and they had never been able to get in the restaurant before. The line wasn't too terribly long today," Thompson explained, adding that the pair sat with six other restaurant-goers and noshed on a family-style meal of fried chicken, homemade biscuits, macaroni and cheese, cabbage, meatloaf and butter beans.
"Nobody made a fuss over them," Thompson continued. "I know the other people sitting at the table knew who they were, but they didn't say anything to them about who they were and that was nice. I thanked [the other diners] for that."
Reynolds reportedly paid cash for the meal and left a generous tip before escorting his lovely bride out of the eatery.
Lively and Reynolds met on the set of "Green Lantern" and began dating in 2011. They tied the knot at Boone Hall Plantation in Mount Pleasant, S.C., and currently live a very private life in Bedford, N.Y.
BEFORE YOU GO
PHOTO GALLERY
Ryan Reynolds