Chloe Grace Moretz plays a "Kick-Ass" on the big screen, and in real life she is no less gutsy: The teen actress isn't afraid to stand up to bullies, especially those who bully her gay brothers.
The 16-year-old appears on the October 2013 cover of Seventeen magazine ahead of her role in the highly anticipated adaptation of Stephen King's "Carrie." Inside the pages, Moretz opens up about her gay brothers and how badly they were treated when they were younger.
"I have two gay brothers and two straight brothers, and my gay brothers were treated horrifically until they grew up and understood how to deal with it," she said. "I will delete you and I will block you, and you will not be a part of my life if you ever say anything bad about my brothers."
The Atlanta native is the youngest of five, including brothers Trevor Duke, Colin, Ethan and Brandon. Despite her fame, she says family will always come first.
"Never choose your friends over your family or a boyfriend or girlfriend over the family," she added. "My mom has always taught us that blood is thicker than water. No one will ever understand the dynamic of your family. Ever. We are the closest family ever and we are the most insane family ever. It may look weird to others, but to us, it's life."
Moretz has been an open supporter of gay rights in the past. Back in March, ahead of the Supreme Court's hearings on same-sex marriage, the young actress posted a red equal sign to her Twitter account in support of equality, The Hollywood Reporter noted.
She isn't the only star to publicly support the cause. Celebrities like Anne Hathaway and Adam Levine, both of whom have gay brothers, have used their platform in support of gay rights.
Read Chloe Grace Moretz's full interview in Seventeen, on newsstands Sept. 17.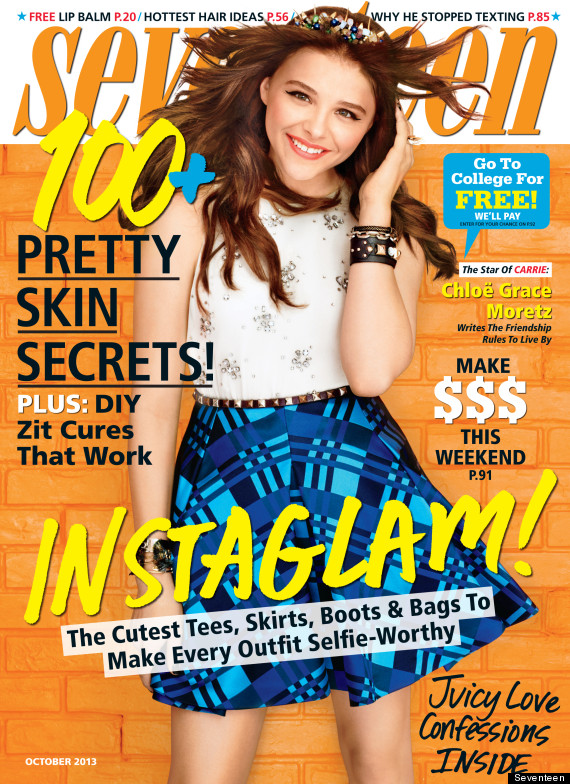 BEFORE YOU GO
PHOTO GALLERY
Hollywood's LGBT Siblings