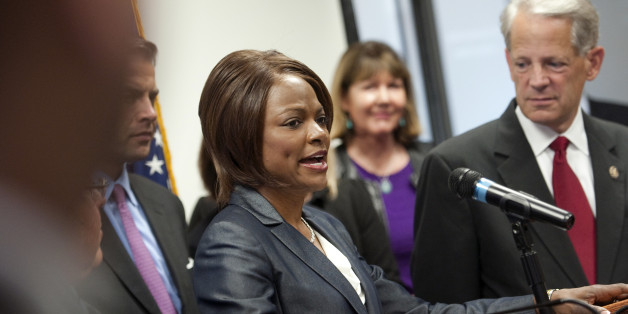 The Democratic Congressional Campaign Committee added nine new recruits to its top tier list of candidates for 2014 this week, and seven of them are women.
The seven female candidates -- former state Sen. Staci Appel (Iowa-District 03), businesswoman Erin Bilbray (Nev.-03), former state Rep. Pam Byrnes (Mich.-07), former State Legislator Jennifer Garrison (Ohio-06), attorney Roxanne Lara (N.M.-02), retired Navy Commander Suzanne Patrick (Va.-02), and County Legislator Martha Robertson (N.Y.-23) -- are all running in Republican-leaning districts for House seats. The women were added to the Committee's "Jumpstart" program on Monday because they show exceptional promise in their respective races. Through the Jumpstart program, the DCCC gives early financial and strategic campaign support to elevate its elite list of top recruits around the country.
While the program does not specifically seek to recruit women, it is equipped to provide specialized support on issues that may be important to women candidates. Jumpstart offers, for instance, a specialist who can help a candidate navigate issues around being away from children during a campaign.
"In 2012, we elected the first caucus in history that's more than half women, minorities or LGBT -- and our latest candidates show that's only going to continue to grow," DCCC Chairman Steve Israel said in a statement to HuffPost.
By contrast, Republicans in the House are made up of about 90 percent white men. The National Republican Campaign Committee launched its own new recruitment program -- Project GROW -- earlier this summer, dedicated exclusively to promoting women within the party and recruiting them to run.
Israel said he is skeptical about the GOP's efforts. "Republicans have trouble recruiting women candidates because not many women want to run under the banner of a party that's hostile to them," he said.
BEFORE YOU GO
PHOTO GALLERY
Which Women Might Run In 2016?