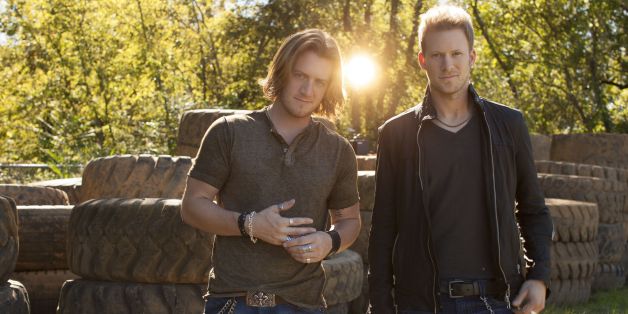 Country music is undoubtedly experiencing a shake-up, with artists continuing to push the envelope and challenge old-school norms with new sounds and cross-genre collaborations. Perhaps no duo has embraced this shift more than Florida Georgia Line, whose summer party anthem remix, "Cruise" featuring Nelly has sold over 5.5 million downloads.
After nabbing After nabbing four Country Music Association award nominations Tuesday morning, FGL members Tyler Hubbard and Brian Kelley explain the excitement that comes from "getting out of the box a bit."
"I think we get excited about making fresh music," says Hubbard. "People come up and tell us they weren't a country music fan or didn't like country music until they heard us... that's the biggest compliment we can get, to know people from other genres are digging country music now, and the new sound."
FGL and Sheryl Crow announced the full list of CMA Awards nominations on "Good Morning America" and later from an event at New York's Best Buy theater. (The awards will take place Nov. 6 on ABC at 8p EST.)
Despite the exposure, Kelley says the duo has no plans of slowing down yet.
"I don't think we've made it yet," he explains. "I don't know what 'made it' exactly means and to define that is pretty difficult, so I think we're just going to keep working hard and hopefully at some point we can attain that."
So, what artist FGL will team up with next? "We'd love to collaborate with Lil Wayne or Rihanna or something like that," Hubbard laughs. "Who knows, you never know what's going to happen!"
PHOTO GALLERY
FALL MUSIC PREVIEW 2013