Seeking out cost-conscious consumers who have gravitated toward inexpensive Android phones, Apple unveiled a much-anticipated cheap model in its popular iPhone series, dubbed the iPhone 5c, at a media event at its Cupertino, Calif. headquarters on Tuesday.
The iPhone 5c is the first of its kind, coming in a variety of bright colors rather than just white and black. Its casing is made of plastic, rather than the high-strength metal that protects its more expensive cousin, the iPhone 5s, which was also shown to the public in Cupertino. The 5c will be available in white, blue, green, rose and yellow.
"The entire back and sides are made from a single part," Phil Schiller, Apple's senior vice president of worldwide marketing, said at Tuesday's event. There are no seams, and the casing is made of polycarbonate reinforced with steel, and is described as "solid" and "dense" feeling.
The iPhone 5c measures 4 inches diagonally, the same as the iPhone 5, and has an 8-megapixel camera like the iPhone 5.
This 16G iPhone 5c will cost $99 and the 32G will cost $199 with a two year contract. While it's not actually "cheap," it is definitely less expensive than Apple's other new phone, the iPhone 5s. There are also six different colored cases will cost $29, which you can mix and match with different colored iPhone 5c's to create different color combinations. The cases have circular cutouts so you can see the color of the iPhone.
The iPhone 5c will be similar to the iPhone 5 in many ways, with a 4-inch display and and 8-megapixel camera. It does not have the fingerprint sensor that is featured on the iPhone 5s. Like the iPhone 5s, the 5c will feature Apple's new operating system, iOS 7.
Apple said that pre-orders for both lines of iPhone begin on Sept. 13. The two phones will go on sale to the public one week later, on Sept. 20.
With the iPhone 5c, Apple hopes to break into markets it has yet to conquer, specifically in China and India, where Apple has been losing out to cheaper, Android-powered smartphones made by Samsung and others. With a less expensive iPhone, Apple hopes to grow its popularity in less developed and poorer areas of the world.
Last week, a factory making parts of the iPhone 5c was tied to labor abuses in China. The China Labor Watch, a non-profit group, found that a U.S.-owned factory was not providing safe and fair environment for its workers. Many of the factory's workers are expected to stand over 11 hours a day and work up to 110 hours of unpaid overtime a month.
More news from Apple's big event:
See some photos of the iPhone 5c from Apple's presentation below: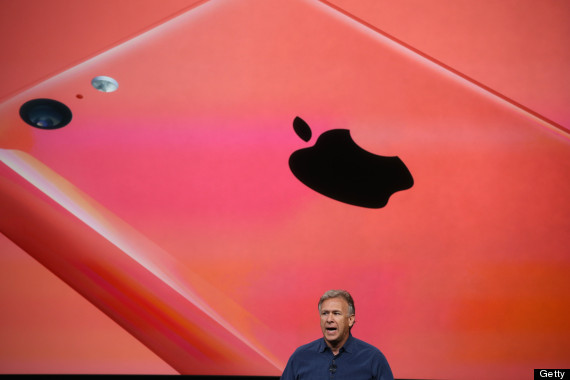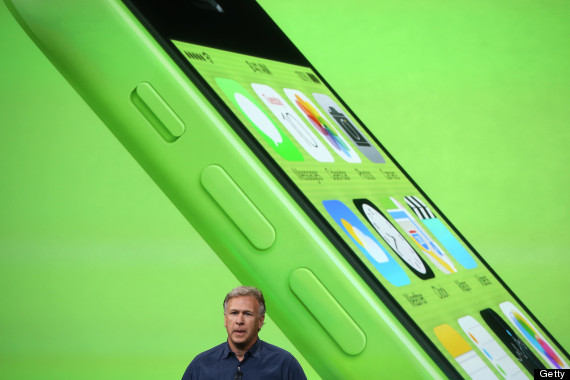 BEFORE YOU GO
09/10/2013 2:42 PM EDT
How To Download iOS 7
Here are instructions from Quartz on how to download Apple's latest operating system iOS 7:
Don't download iOS 7 today. You're not a developer. If you were a developer, you'd already know how to download Apple's newest mobile OS and you'd be making bank by building apps.
Read more from Quartz here:
09/10/2013 2:38 PM EDT
Apple's Stock Price Down After Announcements
From HuffPostBiz's Mark Gongloff:
NM, $AAPL is now down 3%. Still not crashing, but.

— Mark Gongloff (@markgongloff) September 10, 2013
09/10/2013 2:28 PM EDT
Apple Provides Some More Info On New Products
If you want the latest on Apple's announcements straight from the company itself, click over to Apple's news release center. There are press releases on the iPhone 5S, 5C and more.
09/10/2013 2:25 PM EDT
NYMag's Kevin Roose On Whether Apple Can Turn Finger Print Scanning Technology Into A Thing
From New York Magazine:
A handful of device makers have tried to make fingerprint-authentication happen for people who aren't shuffling around millions of dollars every day. And they've been greeted with a unified meh. Ordinary users, it seems, would rather type in a passcode than fiddle with a fingerprint scanner, even if it means their information is more easily accessed by people who aren't them.
Read more from NYMag here.
09/10/2013 2:15 PM EDT
More Details On iTunes Radio
Apple announced that iTunes Radio will be available with iOS 7. From HuffPostTech:
Apple announced that its latest operating system iOS7 will include a livestreaming music service called Apple Radio, at its press conference Tuesday.

The service, which was announced in June, is expected to compete directly with Pandora, Spotify and others by providing users with custom stations created based on their music preferences, the ability to purchase a song they're listening to and more.
09/10/2013 2:12 PM EDT
Elvis Costello Is On The Scene
HuffPostTech Tim Stenovec reports that famed singer Elvis Costello is at Apple's press event. Cool?
09/10/2013 2:11 PM EDT
More Details On The iPhone 5S
From HuffPostTech:
The iPhone 5S will be the same size as its predecessor, the iPhone 5, with a 4-inch screen. Big screens are all the rage these days, and Apple is rumored to be working on phones with larger screens, but physically, the iPhone 5S looks very similar to last year's model.

The phone includes Apple's new A7 64-bit chip, and Apple describes the 5S as the "world's first and only smartphone" with a 64-bit chip. Phil Schiller, announcing the new phone, described the device's CPU and graphics as twice as fast in speed as the iPhone 5. The chip also packs a series of other performance and graphics enhancements. In addition to the A7, the phone includes the M7 motion coprocessor. The M7 "continuously measures motion data," and includes the phone's accelerometer, gyroscope and compass.
Read more here:
09/10/2013 2:08 PM EDT
You Can Pre-Order Some iPhones Starting On Friday
The iPhone 5C is available for pre-order staring on Friday Sept. 13. Both phones will go on sale starting Sept. 20.