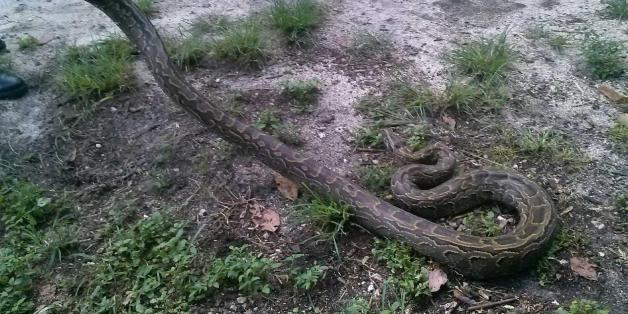 A rock python has killed a dog in West Kendall, raising concerns of a growing snake population in South Florida with a "nastier disposition " than the invasive Burmese.
On August 30, Miami-Dade Fire Rescue received a call about a large snake attacking a 60-pound Siberian husky, a Florida Fish and Wildlife Conservation Commission spokesperson confirmed. The 10-foot, 36-pound North African rock python was later euthanized.
Rock pythons are not venomous but are powerful constrictors. The husky was killed by asphyxiation as were two kids in Canada when a rock python recently escaped from its enclosure, slithered through vents, and fell onto two sleeping brothers.
"Rock pythons don't generally attack humans unless they're provoked," FWC's Carli Segelson told Tampa Bay Times, "but you should supervise children and keep an eye on small pets."
The recent dog attack has FWC officials taking measures to prevent future incidents this fall and winter season, when pythons are more likely to be encountered, Segelson told The Huffington Post.
Staff are canvasing the neighborhood where the species appears to be concentrated, an area southeast of Tamiami Trail and Krome Avenue in Miami.
FWC has also been working with Miccosukee Tribe of Indians, South Florida Water Management District, Miami-Dade County and other local and federal agencies to combat rock pythons, 27 of which have been captured since 2009.
"They are bigger and meaner than the Burmese python," Deborah Drum, deputy director for the South Florida Water Management District's restoration sciences department, told the Sun Sentinel.
How many rock pythons are out there? FWC officials say an estimate is difficult because the population is not uniformly distributed and is tough to detect. They do believe that they are not as established as the Burmese python, of which there are nearly 150,000 in Florida.
There is concern however that rock pythons might breed with Burmese and produce a sort of "super snake."
[H/T Tampa Bay Times]

BEFORE YOU GO
PHOTO GALLERY
Pythons Aside: Florida Invasive and Nonnative Species