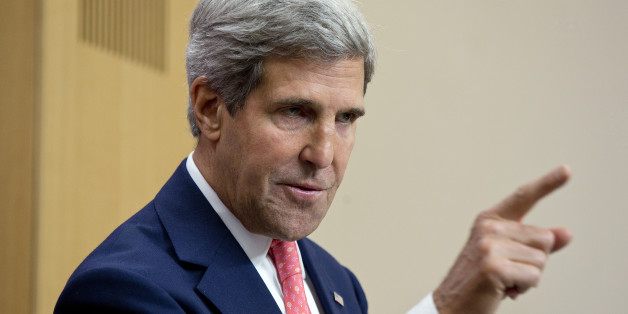 Russia, as you may know, has proposed a solution to the knotty matter of Syrian President Bashar Assad's chemical weapons -- the Russians will help remove them from Syria and place them under the supervision of "the international community."
Since this proposal was floated, many of the policymakers in the overall Syria debate have proceeded under the premise that this is something that could actually happen in the world. But as Yochi Dreazen points out over at The Cable, they have all sort of run away into a strange fantasyland. The bottom line: it's going to be a hard job to pull off in the middle of Syria's ongoing civil war:
Experts in chemical weapons disposal point to a host of challenges. Taking control of Assad's enormous stores of the munitions would be difficult to do in the midst of a brutal civil war. Dozens of new facilities for destroying the weapons would have to be built from scratch, and completing the job would potentially take a decade or more. The work itself would need to be done by specially-trained military personnel. Guess which country has most of those troops? If you said the U.S., you'd be right.

"This isn't simply burning the leaves in your backyard," said Mike Kuhlman, the chief scientist for national security at Battelle, a company that has been involved in chemical weapons disposal work at several sites in the U.S. "It's not something you do overnight, it's not easy, and it's not cheap."
Dreazen goes into great detail, so go read the whole thing. You will probably be left with the opinion that this is one caper that you couldn't get Danny Ocean to undertake.
With this in mind, let's swing back to the John Kerry ad-lib/gaffe that set the wheels of this cunning geopolitical strategem in motion:
Sure, he could turn over every single bit of his chemical weapons to the international community in the next week -- turn it over, all of it, without delay and allow the full and total accounting ... But he isn't about to do it, and it can't be done.
Give Russia and Syria some credit for jumping on this idea, potentially saddling Kerry with some small amount of embarrassment. But the operative phrase here is "it can't be done." That's Kerry's out. He would be wise to take it, if only because further pursuit of this notion is patently unrealistic.
Kerry's original statement wasn't stupid, but continuing to proceed under the notion that the idea presents some sort of "breakthrough" is.
READ THE WHOLE THING: There's Almost No Chance Russia's Plan for Syria's Chemical Weapons Will Work [The Cable]
[Would you like to follow me on Twitter? Because why not?]
BEFORE YOU GO
PHOTO GALLERY
Here's What Politicians Have Said About Syria
09/11/2013 6:02 PM EDT
U.S. Struggling To Destroy Its Own Chemical Weapons Stockpile
The Guardian reports that despite promising to destroy its stockpile of chemical weapons by 2012, the United States still has thousands of tons of lethal gas stored in facilities in Kentucky and Colorado.
According to reporter Paul Lewis, the most recent projections indicate that the weapons dump will not be complete until 2023 -- eight years after Russia said it will be fully rid of nerve agents.
"By missing its deadlines, the U.S. and other countries have arguably breached a founding principle of the same treaty cited as a reason to justify an attack on Syria," Lewis wrote.
Though Syria's chemical weapons stockpile is expected to be much smaller than those of Russia and the U.S., Lewis points out, the delays many countries have experienced in destroying their arsenals indicate the technological and political challenges likely in attempting to disarm Damascus.
Read the full story here.
--Kavitha A. Davidson
09/11/2013 5:24 PM EDT
Chomsky: 'The United States Is A Rogue State'
In an interview with Democracy Now!, Noam Chomsky takes issue with Obama's characterization of the United States as "the anchor of global security" in Tuesday night's address.
Pointing to America's use of Agent Orange in the Vietnam War, as well as its role in overthrowing democratically elected leaders while ushering in dictatorships across Latin America, Chomsky fervently rejects the president's entire premise for taking military action in Syria.
"The United States is a rogue state," Chomsky said. "It doesn't pay any attention to international law."
He notes the seeming hypocrisy in calling for Syria to adhere to internationally established norms against the possession of chemical weapons without demanding the same from other countries -- namely, Israel. (As Chomsky points out, the U.S. under Ronald Reagan vetoed UN Security Council resolutions that would have required all nations to observe international law.)
Chomsky sums up Obama's address thusly:
So what he said is, 'I'm going to lie like a trooper about history; I'm going to suppress the U.S. role, the actual U.S. role, for the last seven decades; I'm going to maintain the threat of force, which is, of course, illegal; and I'm going to ensure that the chemical weapons convention is not imposed on the region, because our ally, Israel, would be subjected to it.' And I think those are some of the main points of his address.
Watch the entire interview in the video below, and read the full transcript of the segment here.
--Kavitha A. Davidson
09/11/2013 5:10 PM EDT
Biden Holds Two Classified Briefings On Syria For House Republicans, Source Says
Vice President Joe Biden hosted two classified briefings in the White House Situation Room Wednesday for groups of House Republicans, an administration official confirmed to HuffPost. The meetings were not on Biden's public schedule, and according to an attendee, Syria topped the agenda.
Rep. Aaron Schock (R-Ill.) said in a tweet this afternoon that his meeting with Biden lasted two hours, and Schock appreciated Biden's "frank discussion and personal outreach."
Just a day earlier, Schock expressed frustration with the Obama administration's shifting position on Syrian chemical weapons negotiations.
"There are so many moving parts," Schock told Time. "The Administration's statements continue to change over a 24-hour period. We're going to strike, we'd like Congress's approval, we don't need Congress's approval—that's what we heard last week—to now we may not strike if Assad gives up his weapons to Russia."
Just leaving 2 hr meeting with joebiden re: #syria. Appreciate VP's frank discussion and personal… http://t.co/1UAdfNI0q8

— Aaron Schock (@aaronschock) September 11, 2013
-- Christina Wilkie
09/11/2013 4:29 PM EDT
Are Americans Too Desensitized To Care About Syria?
David Nakamura posits that one of the toughest challenges Obama faces is getting Americans to care about Syria -- and not simply because of Iraq and Afghanistan.
The Washington Post writer notes that the images of children writhing on hospital floors in the aftermath of the Aug. 21 chemical attack may not be informative or graphic enough to elicit the emotional response the administration has hoped for during its strike campaign.
Nakamura writes:
Images of dead bodies or men gasping for air and convulsing may produce a horrified reaction, but they do not necessarily explain to a viewer what happened or why, said Scott Sigmund Gartner, a scholar at Penn State University who has studied the affect of war imagery on the public.

"The images that are the most powerful tells [sic] a story that is understandable without captions, without additional explanation," Gartner said. "The images I've seen in the media are terrible; they are horrific. But they do not tell a story about the role of chemical weapons -- and it's unfair to even ask ... that of an image because with chemical weapons, most of the time there's nothing to see."
Additionally, Nakamura spoke to an expert who acknowledged that while humans are "hard-wired" to fear poisons and gases, the Syria attack videos "lack raw emotional power compared to bloodier photos and videos that the public has seen from other war zones."
Read the full story here.
--Kavitha A. Davidson
09/11/2013 3:35 PM EDT
New Details on U.S.-Russia Negotiations In Geneva
More details emerged Wednesday about Secretary of State John Kerry's trip to Geneva to meet with his Russian counterpart, Foreign Minister Sergei Lavrov, and negotiate a plan to turn over Syria's chemical weapons to international control.
Kerry will depart late Wednesday night accompanied by a team of United States chemical weapons experts, and spend Thursday and Friday in Geneva, according to a State Department spokeswoman. He is scheduled to meet with Lavrov and with United Nations Special Representative for Syria Lakhdar Brahimi. There were no plans Wednesday for Kerry to meet with members of Syrian President Bashar Assad's regime.
The Geneva meetings will give the U.S. an opportunity to evaluate whether the Russian proposal is serious, said State Department spokeswoman Jen Psaki. The U.S. scientists also will work with their Russian counterparts to "make this effort logistically and technically possible," Psaki said.
The safety of any weapons inspectors or removal teams while in Syria will certainly be part of the discussion, she said.
Psaki said the negotiations between Kerry and Lavrov are separate from early-stage negotiations on Syria held Wednesday in New York between representatives of the five permanent member nations on the U.N. Security Council. She acknowledged, however, that "all these pieces are linked together."
The U.N. negotiations grew tense Wednesday, when Russia rejected a proposal by France and the U.S. for a binding resolution. The resolution would strip Assad of his chemical weapons and impose "very severe consequences" if he failed to comply.
--Christina Wilkie
09/11/2013 2:59 PM EDT
Team Of Chemical Weapons Specialists To Travel With Kerry To Geneva
Secretary of State John Kerry will be accompanied during his two-day trip to Geneva this week by a team of United States chemical weapons experts. The team will help Kerry negotiate the details of a Russian plan to rid Syria of chemical weapons.
A State Department spokeswoman said the names of the experts would be released when the list was finalized, and that Russian Foreign Minister Sergei Lavrov, Kerry's counterpart in the negotiations, also will bring a team of scientists and specialists to the meeting.
Despite a bumpy road ahead for any multinational agreements on Syria's chemical weapons, the inclusion of logistics experts and scientists in what was initially called a diplomatic mission underscores how far the U.S. and Russia have come toward an agreement in just 72 hours.
-- Christina Wilkie
09/11/2013 1:50 PM EDT
Report: All Five Permanent Members Of UN Security Council To Meet Today On Syria
JUST IN: Five permanent UN Security Council member nations meeting today to discuss next steps re Syrian chemical weapons.

— NBC News (@NBCNews) September 11, 2013
09/11/2013 1:45 PM EDT
John Boehner's Syria Stance Not Playing Well Back Home
House Speaker John Boehner (R-Ohio) declared early on his support for President Barack Obama's plan to take military action in Syria. But according to the Cincinnati Enquirer, that position is not playing well in Boehner's Republican district back in Ohio:
One political expert said Boehner's support might cost him votes next session for Speaker of the House, but he doubts it would oust him from Congress.

Of the 20 people the Enquirer approached about Boehner, some didn't even know who he was, much less what was his stance on an attack on Syria.

Other opinions ranged from applauding him for at least making a decision to questions about whether he's still a conservative. One person said he staunchly agrees with what Boehner did and that politics shouldn't be involved.

Patricia Harmon, 49, of Middletown, suggested Boehner was a turncoat.

"I thought he didn't like Democrats. Why is he all of a sudden backing the president?" she said.
-- Amanda Terkel
09/11/2013 12:09 PM EDT
Damascus Residents Line Up For Passports
Despite President Obama's call for Congress to delay a vote on a military strike against Syria, dozens of Syrians lined up in Damascus for passports to leave the country. Reuters reports that many residents of the Syrian capital appear wary of current negotiations at the U.N. to force Syria to give up its chemical weapons.
"We just decided it was time we got passports for the whole family," Raghad, a mother of three in her thirties, told Reuters. Raghad explained that while the family would not need a passport to cross the border into neighboring Lebanon, it would require documents to leave for a third country. "Now with all this news, what if we went to Lebanon and couldn't return? We need passports in case we have no choice but to travel to a third country," Raghad said. "For now, based on the latest news, we're staying until something changes."
Read the full story here.
09/11/2013 11:51 AM EDT
Israel: Syria Must Be Stripped Of Chemical Weapons
Israeli Prime Minister Benjamin Netanyahu called on the international community to strip Syria of its chemical weapons, Reuters reports:
Netanyahu said Syria had carried out a "crime against humanity" by killing innocent civilians with chemical weapons and that Syria's ally Iran, who is at odds with the West over its nuclear program, was watching to see how the world acted.
Read the full story here.