The Coast Guard cutter Healy has a new member of its crew, and she's quite fuzzy.
It's not every day that you see a stuffed animal on a polar icebreaker, but last year Evelyn, then 4, gave her daddy, Petty Officer First Class Gerald Orellana, her bear as a deployment gift and insisted he bring it on his Arctic travels.
She wanted him to have something to remember her by and to keep him from getting lonely, Evelyn's mother, Irene, told The Huffington Post. "She knew that she and I would have each other, but Gerald wouldn't have our family," Irene Orellana said.
The new shipmate's name? Evelynbear.
"She told him he could name it Evelyn, too, so it'd kind of be like she was always with him," Irene explained.
To show Evelyn how much fun Evelynbear was having, mom and dad decided that the bear would get her picture taken throughout the journey. Judging by the photos, Evelynbear seems to have assimilated into life aboard ship just fine.
And she helped steer the ship.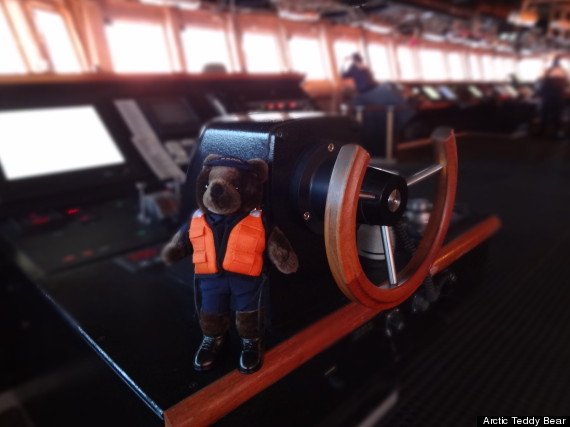 Irene said that USCGC Healy and Evelynbear are traveling in cold waters now and won't be back home until the end of the year and that there will be at least one more deployment for the stuffed companion. Based on the photos, it looks like she'll have a beary fun time.
BEFORE YOU GO
PHOTO GALLERY
Evelynbear's Arctic Adventure