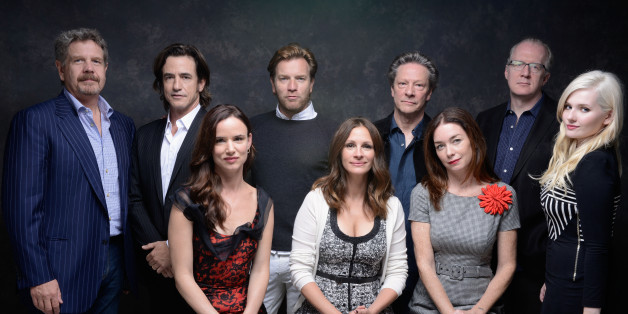 Reviews for "August: Osage County" were mixed after the film debuted at the Toronto International Film Festival on Monday night, with some critics taking specific umbrage with the film's ending. Spoilers ahead.
John Wells' adaptation of Tracy Letts' Pulitzer Prize-winning drama (from a script by Letts himself) adds a scene to the denouement not present in the stage play. Here's Hollywood Elsewhere's Jeff Wells (no relation to John):
"August" play ended, fittingly, with matriarch Violet abandoned by family. Movie ends with Julia Roberts driving around in pickup. Cop-out!

— Hollywood Elsewhere (@wellshwood) September 9, 2013
Violet is played by Meryl Streep, and while she apparently winds up alone in the film's waning moments, the film doesn't end until Roberts (as her combative daughter) is given one moment of hopefulness.
"The dark, near-chiaroscuro setting of the Weston family home is gone, and we get a minute and a half of the honey-dappled plains and Roberts looking happy," wrote Vulture movies editor Kyle Buchanan of the changed ending. "Score that last bit with an upbeat pop song and it could have come from a romantic comedy Julia Roberts had made in her prime."
In an interview with The Los Angeles Times, Wells and Letts discussed the change, and revealed that it might not stick when "August: Osage County" arrives in theaters on Dec. 25.
"I'm not sure I'm OK with doing it that way," Wells said. "I don't want to say there's anything wrong with the current ending, because there isn't. But it's something we're still talking about. We don't open for three months, and it's possible you'll see something different."
The Weinstein Company is set to release "August: Osage County"; whether the ending actually changes remains to be seen. For more from Wells and Letts, head to The Los Angeles Times. For more on the ending, hit Vulture.
PHOTO GALLERY
2013 Toronto International Film Festival