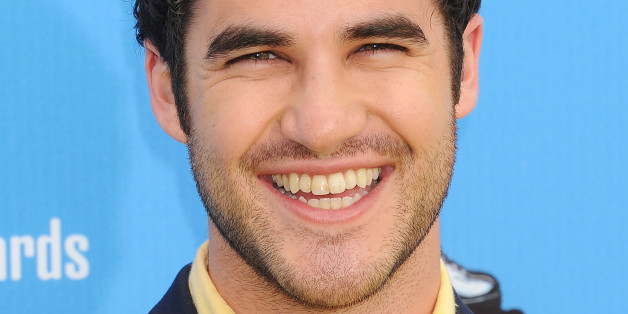 Gleeks gone wild!
At least that's what "Glee" super crush Darren Criss experienced when an overzealous male "Glee" fan licked his face.
In an interview with "Cosmopolitan" magazine, Criss tells of the encounter:
Q: Have you ever had an encounter with a Gleek gone wild?

A: A guy licked my face—straight up grabbed my head and licked my face.
Criss also responded to questions about his sexuality and if he ever feels required to broadcast his straightness. He responded:
I know who I am. I feel bad for guys who have to flex their muscles. But hey, if that's the way to make yourself feel comfortable as a man -- as long as it isn't antagonizing anybody -- go for it. I'm okay with your getting a Miata to feel like a dude; just don't be a dick about it.
To read his full interview with "Cosmo" visit Cosmopolitan.com
This is just the latest in Criss' ongoing love affair with his gay fans. Earlier this year Amelia, the mother of an 8-year-old gay son who blogs from HuffPost Gay Voices wrote a blog post about when her son met "his crush," Criss. In April the actor performed at the GLAAD Media Awards, singing Carly Rae Jepsen's hit "Call Me Maybe," but with the lyrics changed to discuss overturning DOMA and Prop 8.
Even though Criss' character, Blaine, and his boyfriend, Kurt (played by Chris Colfer), had some rocky times on the previous season of "Glee," rumors have circulated that a reunion and engagement for the two characters could take place during the upcoming season.
Make sure to catch Criss on the season premiere of "Glee" when it returns to Fox on September 26.
(h/t to Queerty).
BEFORE YOU GO
PHOTO GALLERY
Celebrities Who've Faced Gay Rumors