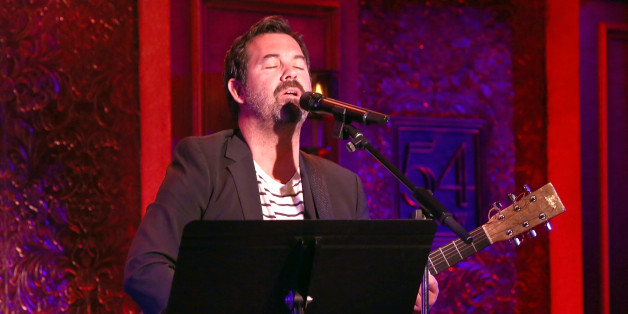 Duncan Sheik could very well be the consummate musical multitasker. The singer-songwriter, who shot to fame in 1996 with the sterling single "Barely Breathing," surprised many fans a decade later by successfully crossing over into musical theater composition with "Spring Awakening," which nabbed eight Tony awards.
Yet despite his Broadway credentials, Sheik has never abandoned his high-octane, rock 'n' roll roots. In many respects, his work comes full circle with his new show at New York's 54 Below, where he'll showcase both his solo material as well as songs from his forthcoming musical version of the acclaimed Bret Easton Ellis novel American Psycho.
"It's really good to be able to shift gears and write from the perspective or persona of a character, and then go and write songs that are just about your own emotional state on any given day," he said of his different projects. "It's a nice thing to have that liberty, because it keeps the work very fresh."
The Huffington Post caught up with Sheik during a press preview of his show, which he described as "a very contemporary, electronic, singer-songwriter event," ahead of its Sept. 9 opening.
You're a writer and performer who is well known in pop-rock circles as well as among musical theater fans. Do you ever find it challenging to play to such disparate audiences?
The problem is that, in a way, I was really hoping that the two audiences would converge in some way. In fact, they remain two very separate audiences. ... There are a lot of people who probably don't realize there's a lot of incredible music that exists in the theater world. Conversely, there are people who just go see theater and don't go see a cool indie band. So I continue to try to unify those audiences in some way.
Is there one song in your 54 Below show that you're just dying to play?
There's a song from "American Psycho" called "This is Not An Exit," which is kind of like the big ending of the show. I'm very proud of it, it's really beautiful and really intense. I've never performed it before so I'm going to trot it out here and see if I can pull it off in this context.
American Psycho seems like unlikely material for a Broadway musical. Why did you feel drawn to that story?
I'd read the book in college, and I re-read the book in 2009 when this idea was first proposed to me, and I found it to be incredibly riveting. It's a book that has so much richness, darkness, satire and humor. There are just so many layers of things going on which are so fascinating to me, and I think there is a tradition in musical theater of these great anti-heroes, "Sweeney Todd" being the most obvious example.
The theater that I care about –- both straight plays and musicals –- usually deals with fairly dark subject matter. Certainly "Spring Awakening" is no exception. There was lightness in the show, but there's also a lot of tragedy. "Psycho" is less earnest than "Spring Awakening," and there's more of a satirical element, but it doesn't shy away from brutal parts of the human psyche. The director, Rupert Goold, is a total genius, and Roberto Aguirre-Sacasa, who wrote the book, is super funny and super smart. It's been a great process working with those excellent people.
You've also got a new record in the works. What's that going to be like?
It's called "Legerdemain," which means "slight of hand," which connotes "thievery." The first half of the record [involves] stealing sounds and the aesthetic of electronic dance music and grafting it onto singer-songwriter music, while the second half is unabashedly art songs. I'm just making music that is exciting to me aesthetically and has no commercial pretensions whatsoever.
Electronic dance music isn't usually thought of as being particularly emotional. How do you plan to escape that?
There are a couple of records that have come out in the past decade which have tried to do that, some better than others. Certainly there are people like Bjork who do it with incredible power and grace.
Electronic music is something I've always loved, and I've always been a little bit shy about employing those of types of technologies in my own records for whatever reason. Working on "American Psycho," which is all electronic, and then doing the remix album of '80s covers that I did last year, I just love using the technology and finding ways of merging it with acoustic instruments. There's a real richness that comes from that.
Duncan Sheik plays at New York's 54 Below through Sept. 14. For more information, click here.
BEFORE YOU GO
PHOTO GALLERY
2013 - 2014 Broadway Season Preview