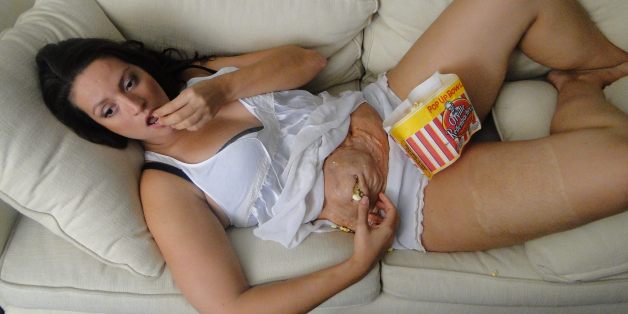 Gabrielle Wood is wearing a dainty, button-down dress, standing in front of a yummy-looking cake.
As she begins to seductively disrobe, hinting a sexy striptease is on its way, she suddenly reveals a grotesque orifice that protrudes from the side of her body.
Wood then begins to have her cake and eat it too -- not by using her mouth, but rather by stuffing herself with pieces of the cake. Literally.
The video installation is "Displaced Pleasure," and like much of Wood's work -- which includes photography, ceramics, video, and performance art -- it focuses on issues within American contemporary culture such as consumerism, the perception of the female body, beauty, and human design.
Sound gross? Check out the video below for yourself, then read on for Wood's take on her performance piece.
Who you are:
Gabrielle Wood
Years in Miami:
2 years in the city, but born and raised in the suburbs of Broward County.
First memory of Miami?
Hot smelly animals, going to Metro Zoo and the Miami Seaquarium as a child.
Current neighborhood:
Edgewater
Current gig:
Artist, adjunct professor in Ceramics at FIU, and studio assistant to a ceramic artist working in Little Havana.
Favorite 'Only in Miami' moment?
While waiting at a stoplight, a 70 year old shirtless man was riding by on his tricked-out beach cruiser complete with fox tail handlebar decorations, while honking his horn.
What's your idea of a perfect day in Miami?
Breakfast at Buena Vista Deli or Enriqueta's, thrift store shopping, then off to the beach or pool.
395 or 195?
395. It may sound touristy of me, but I still enjoy driving past the port.
Which Miami galleries do you regularly visit?
Locusts Projects, David Castillo Gallery, Emerson Dorsch Gallery, Gallery Diet, Dimensions Variable, Primary Projects, Spinello Projects, and Zadok Gallery.
Where do you like to take out-of-towners?
Breakfast at Buena Vista Deli or Enriqueta's, the beach, and to South Point Park to walk and watch the cruise ships sail out. If I'm by the beach, for lunch I take them to Las Olas Café or La Sandwicherie and dinner at Otentic. If back in Midtown, to Wynwood and the Design District to visit my favorite galleries and to see the graffiti art, then to dinner at either Sabor A Peru or Morgans.
What's a typical day of creating like for you?
Wake up, eat, sketch, think, draw, photograph my neighbors on their balconies, listen to music, and think some more. Then I jump into the work and work until I am starving. I eat and work some more until my fingers and back hurt then I'm done for the night.
Much of your work deals with issues of consumption. Is there anything particular about South Florida notions of consumption, pleasure, and desire that fuel your work?
Of course, making art involves many things, like our family history, our childhood, and our relationship with mainstream culture, so growing up in South Florida has definitely fueled my art. Especially when living on South Beach for a year, it was like moving to a different planet, the people seemed to just shop, eat, work out, and lay around.
In your work "Disruptive Pleasure," you consume food through an orifice on your stomach rather than your mouth. What kind of reaction or reactions do you intend to inspire from your audience?
The title sums up exactly what I expected to inspire from the viewers, disrupted pleasure. You are confronted by a female undressing, thinking you may see something pleasurable, then see a grotesque growth, and immediately find your pleasure disrupted, and turned to disgust. I am also disrupting my own pleasure, by not feeding my mouth, but instead going straight to the digestive, my stomach, but in doing so, create a new body with a new pleasure zone.
Tell us about "Sexy Bitch," in which dual video projections show close-ups of a woman's chest and backside jiggling during exercise.
I found that the music I listen to at the gym is all about objectifying women's bodies, but I enjoy listening to it, so I began recording myself at the gym working out. I took close-up shots of my breasts jiggling as I walked on the tread mill; the other shots focused on my butt as I worked out on the elliptical choreographed to the hip hop music that I listen to while at the gym. I was reluctant to do this work because of the use of my own body in the work. Just like listening to this music, am I objectifying myself or am I confident in myself as a female not being an object; that it would be impossible to objectify myself?
Upcoming projects you're working on:
I just finished a large scale site specific installation, "Repressed Ambitions," about teeth. I had a dream my teeth were extended from my mouth by wires, and I was trying to eat, but the food kept falling through the wires. The large scale sculpture is one way of representing this surreal feeling that comes from dreams, and I am making a video performance piece using my own body of the experience as well.
Why do you hate Miami?
The rising cost of living.
Why do you love Miami?
I love Miami for the sun, the heat, the rain, living by the water, being able to walk anywhere to get anything, the diverse cultures, and the art scene.
In a word or two or three, Miami is...
Leisure, pleasure, and desire.
BEFORE YOU GO
PHOTO GALLERY
Gabrielle Wood