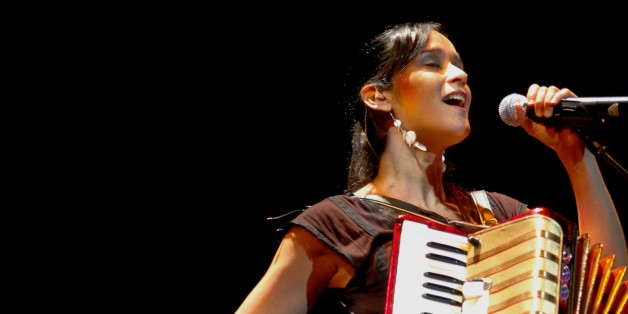 Mexican singer Julieta Venegas will kick off her 16-city U.S. tour on September 18 in Anaheim, Calif.
She is promoting her new album, "Los Momentos," released early this year. Many of her songs are a combination of personal experiences as well as inspirations from poems and letters.
"Today for the first time I can see clearly; Something has cleaned my window; Today I can trust more in what I feel; Today I know; You always have to wait; What you have been wishing for will come; Today I truly love," sings Venegas on her song "Hoy."
"It's an emotional song and its related to my daughter, Simona," said Venegas during an interview with VOXXI. The singer became a mother three years ago but never revealed the father's name, which resulted in numerous rumors and speculations. However, Venegas personal life is a quiet one. "I like to have dinner with friends and a good conversation, I am not into going out very much."
The inspiration behind Julieta Venegas' new album
Venegas was born in Tijuana, Mexico, in 1970. She studied music in both Mexico and the U.S. and plays the piano, violoncello and the accordion. As a teenager, she started her musical career with local rock bands, such as Tijuana No! Venegas is also a prolific composer, with a wide range of musical styles influenced by her upbringing in a border town.
"To grow up in the border means you get exposed to two different cultures," said the singer. "While my family was a middle class, traditionalist, I also got a different perspective from the north. You absorb all you can… and still, I am Mexican," she said with conviction.
The song "Vuelve" "came up as a result of a letter a friend of mine sent me, asking if it was safe to travel to Mexico… I wanted to let people know that we can't let fear dominate us. Fear is another element in our lives, especially in Mexico," Venegas said.
French-Chilean rapper Ana Tijoux and Café Tacvba's lead singer Ruben Albarran collaborated with Venegas in "Vuelve." The track has soft transitions adjusting to the style of each artist and creates a beautiful and simple yet sophisticated piece of music.
"Since I began to compose the song I thought about inviting Ana to join in. We are good friends and we collaborated before. And in this case I believe she could bring in her sensibility," Venegas explained. Regarding Albarran, this was a first. "I am a fan of Café Tacvba and this is the first time we collaborated on a song. I wanted Ruben's voice in it!"
Her "Los Momentos" song, which is the title of her new album, speaks to the lost moments in a relationship. "I wrote this song after reading Jorge Luis Borges' poem "Lo Perdido," which is not about a relationship, I added that myself and it has nothing to do with my personal life."
The "Los Momentos" album has an acoustic and intimate tone, in which traditional instruments like the piano and guitar play are present throughout the album. While Venegas prepares to launch her U.S. Tour, she is also working on producing music for a play and for a children's animated film.
Listen to "Los Momentos" and check out her tour dates and cities below.
'Los Momentos' music video
Details on Julieta Venegas' U.S. tour
Sept. 18: House of Blues, Anaheim, Calif.
Sept. 19: House of Blues, San Diego, Calif.
Sept. 20: Ventura Theater, Ventura, Calif.
Sept. 25: House of Blues, Los Angeles, Calif.
Sept. 27: Rainbow Ballroom, Fresno, Calif.
Sept. 28: Warfield, San Francisco, Calif.
Sept. 29: House of Blues, Las Vegas, Nev.
Oct 4: The Filmore, Miami Beach, Fla.
Oct. 7: Irving Plaza, Manhattan, NY
Oct 10: The Filmore, Washington DC
Oct. 12: Concord Music Hall, Chicago, Ill.
Oct. 13: Latin American Festival, Charlotte, NC
Oct. 18: Comerica Theatre, Phoenix, Ariz.
Oct. 23: House of Blues, Dallas, Texas
Oct. 24: House of Blues, Houston, Texas
Oct. 26: Mcallen Civic Center, Texas
For more information about Julieta Venegas' U.S. tour visit her website.
Originally published on VOXXI as Mexican pop star Julieta Venegas kicks off US Tour
BEFORE YOU GO
PHOTO GALLERY
Latin Grammy: Green Carpet Arrivals