"We did it," read the Save The Miami-Dade Public Libraries Facebook page in the early morning hours Wednesday.
After an eight-and-a half-hour budget meeting, Miami-Dade County Commissioners voted 8 to 4 to keep library staff and hours as is, saving 251 jobs, two bookmobiles, and maintaining the current schedule of 49 branches.
Yet the budget shortfall hasn't been solved, just postponed another year.
Commissioners voted to use $7.8 million in library reserves, according to the Associated Press, in lieu of a $20 a year tax hike or increasing the library system's mileage rate.
That means that in 12 short months, the libraries will lack necessary funding again, Mayor Carlos Gimenez warned, and either a tax increase or cuts will be likely.
The 5 p.m. hearing lasted four times the usual time due to the nearly hundred library supporters who lined up to speak.
(Story continues after photo.)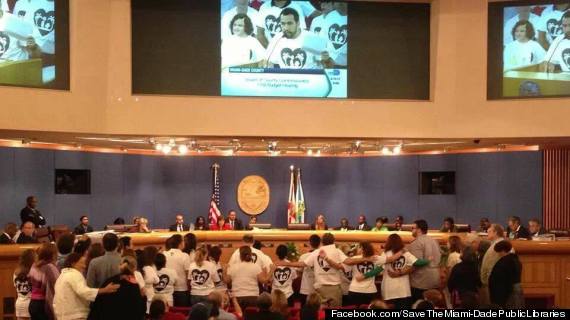 Many donned white Save Our Libraries t-shirts and had the political support of several city mayors, according to the Miami Herald.
"This would be the first time in my three-and-a-half years as mayor that my residents have contacted me to raise their taxes on anything," South Miami Mayor Philip Stoddard told the newspaper. "It's an unusual situation."
In July, Gimenez proposed a tax increase that would have avoided budget cuts at libraries and fire stations, and would have funded a no-kill program at county animal shelters.
The mayor soon reversed his position, backing down on the tax hike, and proposing to shut down nearly half of Miami's public libraries as well as other cuts to fire departments and animal shelters.
Over the weeks, Gimenez and his staff compromised to dramatically reducing the operating hours of over a dozen libraries in order to keep all branches open. His cuts still included layoffs of nearly half the MDPLS staff.
Despite the reprieve granted to the MDPLS Wednesday, cuts will still be made at fire stations and Miami-Dade will put less resources into funding no-kill animal shelters, reports the Miami Herald.
BEFORE YOU GO
PHOTO GALLERY
Rally To Save Miami Libraries