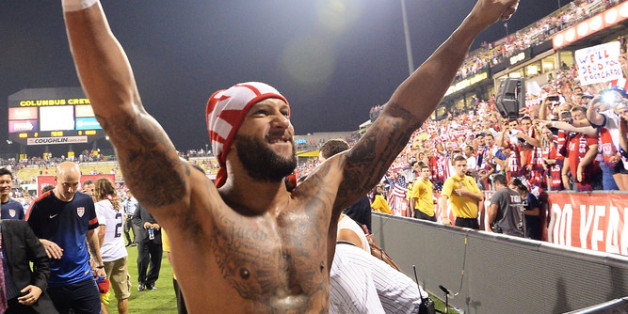 When the final whistle sounded on the United States' 2-0 win over Mexico on Tuesday night, soccer fans and players in Columbus celebrated a win over a rival. They needed to wait about an hour to celebrate something even better: A spot in the 2014 World Cup.
Goals by Eddie Johnson and Landon Donovan had pushed the U.S. men's national soccer team to the brink of World Cup qualification but they would need either a win or draw from Honduras against Panama to seal their spot. Once that match ended 2-2 just under an hour after Jurgen Klinsmann's team put the latest "Dos A Cero" in the books then the party was on at Crew Stadium.
Signed, sealed and delivered! We are going to Brazil! 2014 World Cup... Here we come! Go USA! http://t.co/1rgd9DiJF4

— Omar Gonzalez (@Omar4Gonzalez) September 11, 2013
After beginning the celebration behind closed doors, the players emerged from the dressing room to party with the fans who had waited out the Honduras-Panama result.
WATCH: U.S. Soccer Players Celebrate World Cup Berth
Amid the partying, two members of the U.S. team seemed particularly enthusiastic in their imbibing during the ESPN broadcast.
GIF: Bottoms Up For Landon Donovan
(H/T @dhm)
GIF: Omar Gonzalez Celebrates, Aggressively
(H/T The Big Lead)
BEFORE YOU GO
PHOTO GALLERY
PHOTOS: U.S. vs. Mexico World Cup Qualifier