This story comes courtesy of Discover Los Angeles.
Noodles have been a Chinese staple for over 4,000 years. The earliest sample of this dish was found in northwestern China -- found preserved and overturned in a sealed bowl and buried underneath ten feet of sediment. It's an incredible, ubiquitous medium with a wide-ranging field of influence. Chinese noodles are the ancestors of all other noodle dishes. According to popular myth, Marco Polo introduced noodles to the West during the Yuan Dynasty -- in fact, noodles were widely eaten in Europe and the Middle East for centuries before Marco Polo's birth.
Chinese noodles are incredibly diverse. Whether it's the spicy, chili-heavy noodles of Sichuan, or the warm chicken noodle soup of Yunnan -- there's really something for everyone's flavor profile. Most Chinese restaurants in the area have some sort of noodle dish, and many dishes have centuries of historical background. Noodles from northern China are broader and flour-based, while noodles from the south typically use eggs. Then there are rice and mung bean-based noodles that are great for soaking up the flavor. Called mian in Chinese, it's the ultimate comfort item and you really only need one bowl to be sufficiently full.
There are a myriad of Chinese noodle options in Los Angeles. To help you get started on your culinary journey, we've selected our top 10 favorites.
CHENGDU TASTE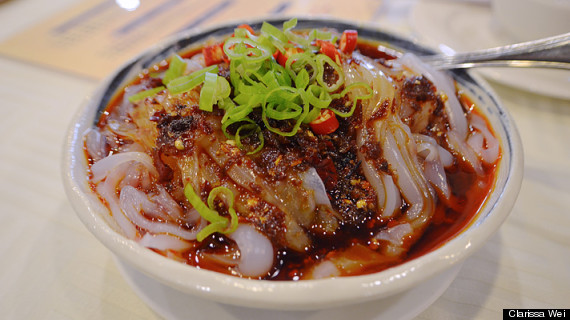 The mung bean noodles at Chengdu Taste are among one of the most ordered dishes at this up-and-coming Sichuan favorite. It's a perfectly portioned appetizer for any-sized table and the ideal primer for an inevitable string of tongue-numbing dishes. The cellophane noodles are thick and really soak up the pool of blood red chili oil. Dry chili flakes and diced jalapenos add to the repertoire of spice, and the dish is always finished off with an eye-popping sprinkling of finely minced green onions. More information.
DAI HO RESTAURANT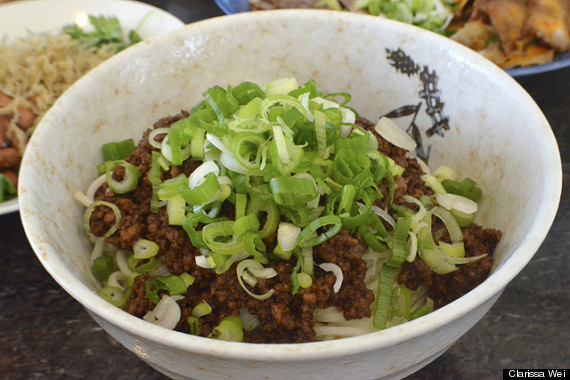 Fronted by Taiwanese natives May and Jim Ku, Dai Ho Restaurant specializes in small-batch Chinese noodles. They're only open three-and-a-half hours each day, but the husband and wife duo are in the kitchen as early as 6:00 a.m. for prep work. The noodles are handmade and pressed five times to achieve a sufficiently "Q" (al dente in Chinese) texture. The menu selections are very limited. The beef noodle soup and dan dan noodles are solid picks, but the zhajiang mian here is a stand out. It's labeled as "pork bean dry noodles" in English and consists of minced scallions and ground pork seasoned with a rich paste made out of fermented soybeans. More information.
GUI LIN CUISINE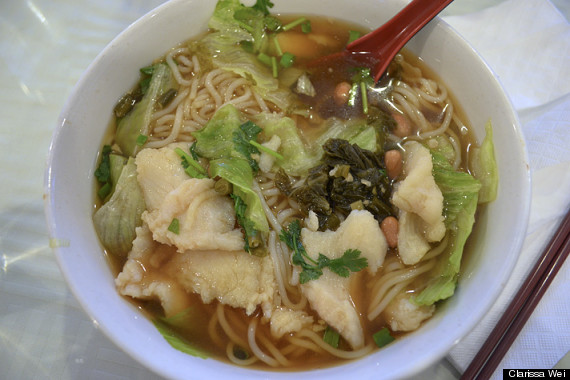 Guilin noodles have a reputation in China for being strongly pungent -– a result of the heavy amounts of pickled vegetables. Guilin noodles take advantage of the rural and river landscape of the Southern Chinese city. It's a rice noodle-based dish mixed with fried peanuts, peppers, pickled vegetables and a protein of choice -- usually fish or horse meat in Guilin, but in the States it's always fish. The heat level is nonexistent, but on the side of each table is a house-made chili sauce made with dried chilies, garlic and fermented soybeans for those craving an extra kick. More information.
HAPPY GARDEN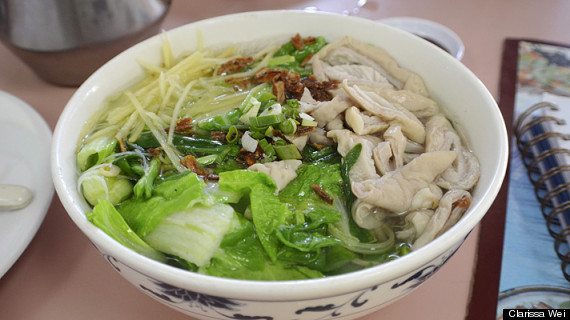 Happy Garden has been around since 1995 and is operated by Jim Huang, who was a chef in Taizhong. He specializes in southern Taiwanese specialties and whips up a simple but fantastic pig intestines vermicelli. The chewy, blanched pig intestines sit over a heap of thin vermicelli and are served with bok choy, sliced ginger and dried shallots for flavor. Scallions add to the dichotomy of flavors. Use oyster sauce as a dip for the intestines. More information.
JTYH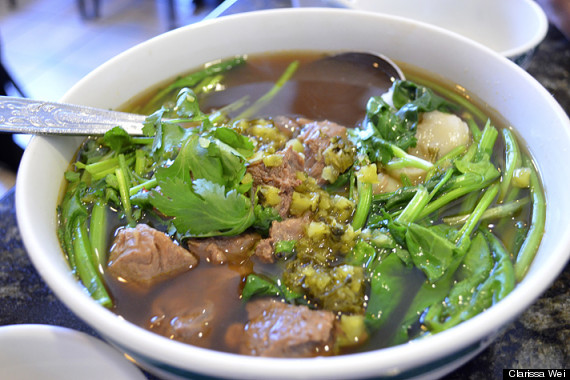 Chef Shi Peng is one of the few people in the Southland who is capable of whipping up knife-shaved noodles, or dao xiao mian, by hand. Peng has been making noodles with a blade for more than 25 years and makes a mean beef noodle soup. The noodles are thick and chewy and accompanied by a wonderful assortment of pickled vegetables, cilantro and large cubes of beef shanks. No MSG is added and the broth is very light -– a true standout from the earthy and heavy broths of its local competitors. More information.
LUCKY NOODLE KING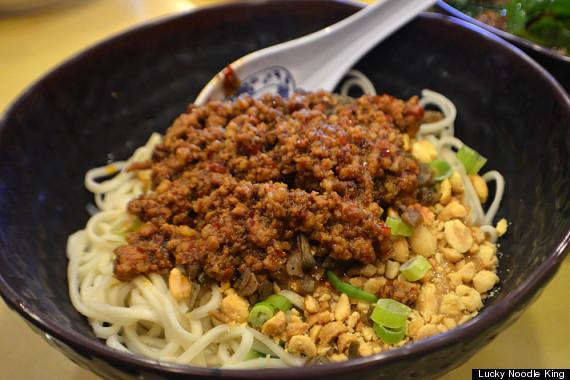 Sichuan-specialist Lucky Noodle King is best known for their dan dan mian, a cold noodle medley of ground pork, minced garlic, crushed peanuts and a sprinkling of pickled vegetables. It's flavored with a heaping of creamy sesame sauce drizzled with dry chili flakes. A handful of scallions are thrown in for garnish. While the presentation isn't exactly mind-blowing, you'll understand the hype behind this dish after your first bite. Just be sure to give it a thorough mixing. The heat level here is just right for most people, but if you're craving more of a zing, ask for more chilies and they'll happily oblige. More information.
SAM WOO BBQ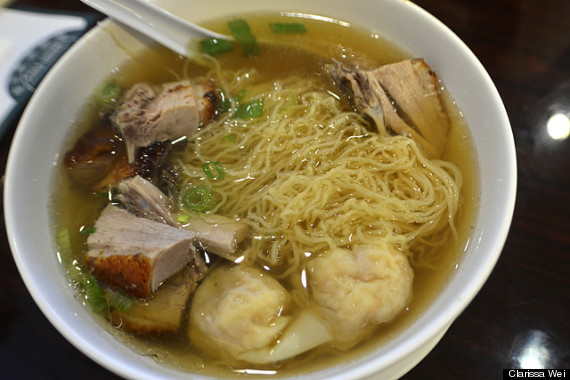 Sam Woo on Las Tunas closes their doors at midnight, making it the perfect stop for a late-night snack. We suggest going straight for their wonton and roast duck noodle soup. The egg noodles at Sam Woo are imported directly from Hong Kong and the broth is made with an intricate combination of pig bones, dried shrimp, dried fish and shrimp shells. Found inside this soup are Hong Kong wontons and Sam Woo's famous roast duck –- the skin is slightly crispy and sweet from a thin, maltose glaze and the meat is deliciously tender from hours of marinating. More information.
SHEN YANG RESTAURANT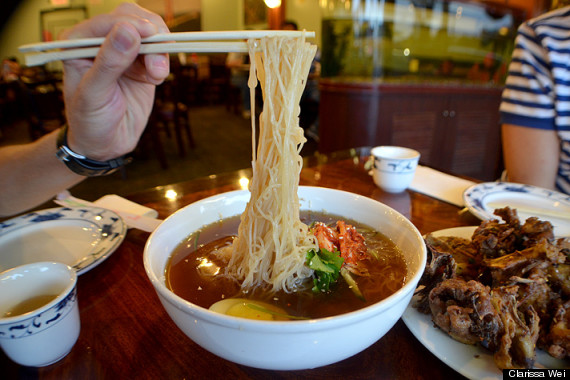 Shenyang, a city in Northeastern China, is extremely close to Korea in terms of location and even culinary tastes. There's a special dish simply called Shenyang cold noodles on the menu that parallels Korea's naengmyeon. The noodles are made in-house and sit in a salty and sour beef-based soup. It's paired with a beautiful assortment of kimchi, braised egg, thin slices of meat and cucumber, and a smattering of sesame and cilantro. The broth is icy cold and the perfect solution to a warm Los Angeles day. More information.
SILK ROAD GARDEN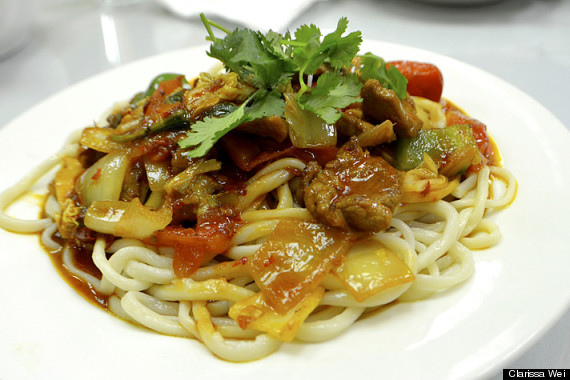 Silk Road Garden is LA's Uyghur food specialist. At the heart of the menu, you will find long hand-pulled noodles drenched in a cumin and meat sauce. Known as laghman noodles in English, the noodles are freshly-pulled and so frustratingly long you might even want to ask for scissors. It's served with stewed lamb, onions, tomatoes, wood ear mushrooms, bell peppers and cilantro for garnish. More information.
YUNKUN GARDEN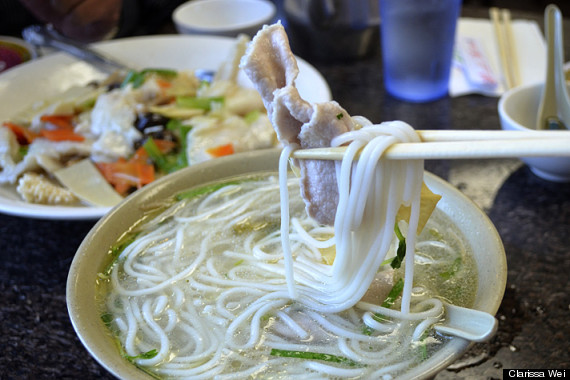 Yunkun Garden is a Sichuan and Yunnan fusion joint known for tongue-numbingly spicy dishes and their "Crossing Over Bridge" noodles that offer relief from all of that spice. The origin of the name is disputed. One version claims that it's simply the name provided to a scholar by his wife when she literally crossed a bridge to purchase rice noodles. The dish is analogous to chicken noodle soup -– homey and rich enough to be the perfect hangover cure. Though the dish is often prepared table-side in Yunnan, it is served pre-made at Yunkun Garden. The rice noodles swim in a chicken broth paired with thin chicken slices, tender bamboo shoots and tofu bean curd pieces. More information.
Clarissa Wei is a food writer and web producer. Check out more reviews at clarissawei.com. Discover Los Angeles is the website of the Los Angeles Tourism & Convention Board. For more Discover Los Angeles guides, click here.