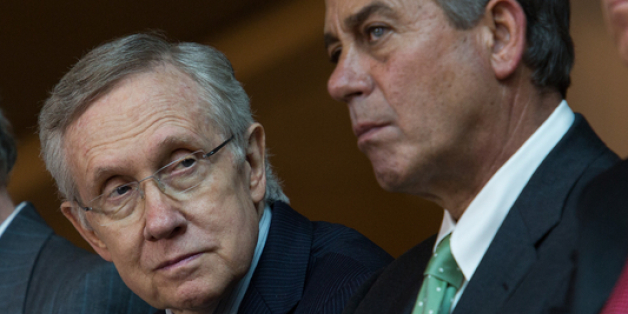 When it comes to the GOP's efforts to defund Obamacare, Senate Majority Leader Harry Reid (D-Nev.) appears to have let his thoughts be known directly to House Speaker John Boehner (R-Ohio).
According to tweets from various reporters on scene Thursday, Reid said he told Boehner the health care law push is a waste of time.
Harry Reid says he told Boehner today that attaching Obamacare to the CR or debt limit is "a waste of your time."

— Sahil Kapur (@sahilkapur) September 12, 2013
House Majority Leader Eric Cantor (R-Va.) announced Tuesday that Republicans would seek a one-year delay on Obamacare in exchange for a raise of the debt ceiling. By Wednesday, a vote was put on hold, as opposition mounted from conservatives demanding a tougher plan for defunding the Affordable Care Act, Reuters reported.
On Thursday, the House also passed a bill banning Obamacare subsidies. This marked the 41st time Republicans voted on repealing, defunding or altering the health care law.
BEFORE YOU GO
PHOTO GALLERY
Health Care Reform Efforts Throughout History