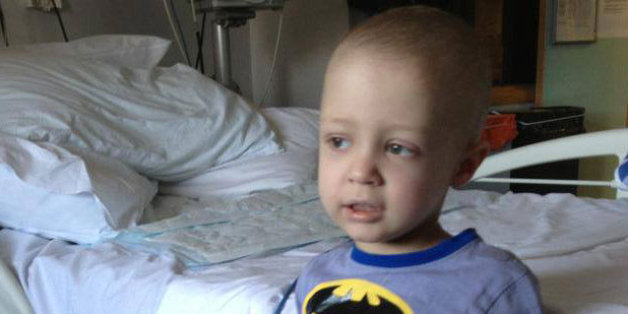 How long does it take to open a giant stack of birthday cards?
For cancer patient Henry Hallum, it took two whole days. SWNS reports that over 700 cards were sent to the 4-year-old to give him the best birthday, ever.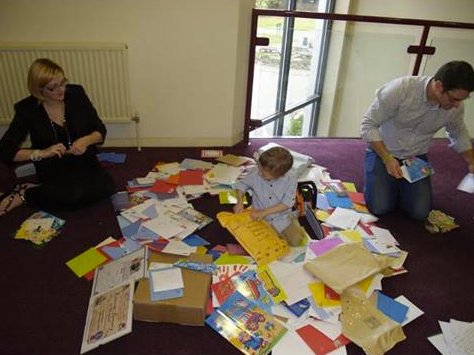 Henry was diagnosed with Neuroblastoma when he was 3 years old and the cancer has left multiple tumors in his body as a result. The money he receives from his fundraising website, Hugs For Henry, will go towards a trip to the U.S. where Henry will receive a T-Cell transplant and antibody treatment not available in the U.K., where he is from.
But for his birthday, Henry's parents, Elsbeth and Mike, had a different request. On the Hugs For Henry Facebook page, they asked friends to send cards. Soon, they came pouring in.
"Although his birthday was at the end of August, they are still arriving and I expect they will keep coming for months to come," Elsbeth told the Herald.
He spent his big day (August 30) at Bristol Royal Hospital for Children Hospital, but the staff made sure to throw him a celebration he wouldn't forget. Over 100 friends and relatives attended, the Herald reported.
His mother plans to contact the Guinness World Book of Records, soon, to find out if Henry has received the most birthday cards ever. But records aside, she and her husband just appreciate all of the "lovely messages" people have written for Henry.
They'll know in a month if his current treatment has done anything to rid the cancer from his body, but, there's a 60 to 80% chance it will come back, SWNS reports -- an estimate that makes their fundraising efforts that much more important.
They've raised £104,000 (about $164,580) so far, but will continue to accept donations in order to reach their £500,000 ($785,950.00) goal.
In the meantime, Henry will continue to dream big, starting with his birthday card world record and then moving on to bigger things, like becoming a superhero.
BEFORE YOU GO
PHOTO GALLERY
Photos of Henry Hallum