Brides often use their second (or third or fourth -- hey, we're not judging) to put a different spin on bridal wear. Went big and poofy the first time? Given another chance, maybe you might choose something sexy and sleek.
Or long-sleeved. Jackie Kennedy showed brides how it's done with her two dresses, the first worn sixty years ago today. For her wedding to John F. Kennedy, Jacqueline Bouvier wore an ivory taffeta off-the-shoulder dress designed by Ann Lowe, who also created dresses for the Rockefellers and the Vanderbilts. The shape of Jackie's dress was classically feminine, with a nipped-in waist and a voluminous skirt extending over the hips. As a balance to the drama of the dress, her hair was worn short and unadorned save for a veil attached to a delicate cap-like topper.
15 years later, the former first lady married Aristotle Socrates Onassis, a wealthy Greek businessman, on his private island in the Ionian Sea. For her island ceremony, Jackie let her hair down (literally) and went with a mod long-sleeved number with a high collar and buttons at the wrists. The dress was untraditional but somehow felt just perfect.
As every bride's outfit should be -- even if it takes a few tries.
On the anniversary of Jacqueline and John F. Kennedy's wedding, take a look at Jackie's two dresses: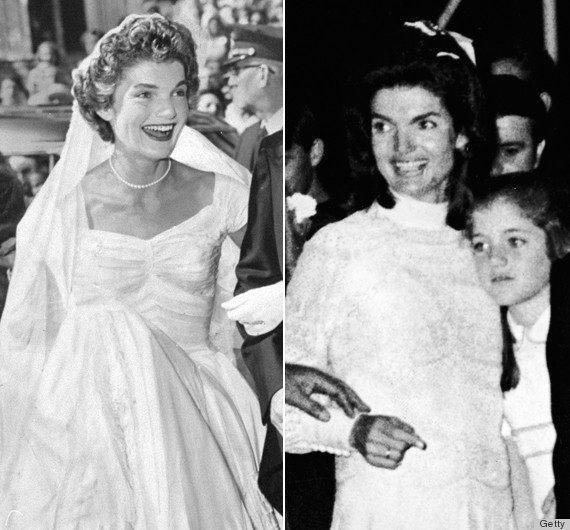 PHOTO GALLERY
Looking Back At JFK and Jackie's Wedding