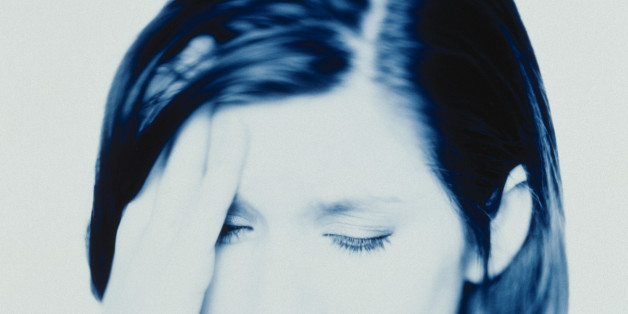 People who are obese may have a higher risk of experiencing infrequent migraines, according to a new study.
Researchers from Johns Hopkins University School of Medicine found an association between obesity and episodic migraine, with obese people having an 81 percent higher risk of experiencing episodic migraines than those of normal weight.
Episodic migraines are different from chronic migraines, in that people who get them have anywhere from 0 to 14 headache days a month, compared with 15 or more headache days a month for chronic migraines.
"These results suggest that doctors should promote healthy lifestyle choices for diet and exercise in people with episodic migraine," study researcher B. Lee Peterlin, D.O., said in a statement. "More research is needed to evaluate whether weight loss programs can be helpful in overweight and obese people with episodic migraine."
The study, published in the journal Neurology, included 3,862 people -- 1,044 of whom were obese -- with an average age of 47. Researchers identified their migraine experiences and frequencies, and found that 188 had episodic migraines.
They found that the link between episodic migraine and obesity was especially strong in people younger than age 50, white people and women.
The cause for this association is still unknown, though researchers noted in the study that "to some extent, the sex, age, and race differences in the distribution and volume of body fat and the different metabolic function of adipocytes from different fat depots may explain our findings."
They also noted it's possible that having migraines spurs obesity since "migraine could drive the development of obesity as a result of migraine-related pathophysiologic changes (e.g., serotonin decreases the drive to feed, and serotonin may be low in migraineurs interictally) or as a consequence of medications and/or lifestyle choices, such as decreased activity, associated with weight gain."
Indeed, University of Toledo professor Dr. Gretchen Tietjen, who was not involved in the study, pointed out to HealthDay that "maybe the person had the migraines first and then started taking medications like amitriptyline or valproic acid … Those medications are associated with weight gain."
Tobias Kurth, M.D., of Harvard School of Public Health and Brigham and Women's Hospital, who wasn't involved in the study, told Medscape that a potential caveat to the findings is that migraine prevalence hasn't risen in the last decade, while obesity has -- if the two were really connected, you would expect to see both rise in relation to each other.

BEFORE YOU GO
PHOTO GALLERY
10 Migraine Triggers