This article was written by teen reporters from The Mash, a weekly publication distributed to Chicagoland high schools.
By Fatima Farha and Gabby Abesamis, Niles West
During the MTV Video Music Awards on Aug. 25, millions of tweets about Miley Cyrus' singing and twerking, and her outlandish outfit and behavior, covered Twitter feeds. During each performance that night, TV cameras combed the crowd and showed celebrity reactions, including one from actor Will Smith and his family.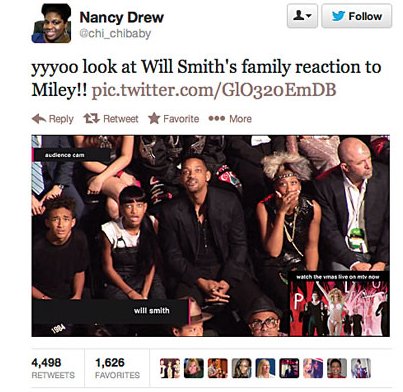 It wasn't long before an Internet meme that showed Miley Cyrus twerking in front of singer Robin Thicke in one half, and the Smith family looking appalled in the other half, went viral, getting retweeted thousands of times and making its rounds on live blogs and mainstream media reports of the awards show.
Only it wasn't true.
It turns out, those amusing facial expressions weren't a reaction to Miley Cyrus, they were reactions to Lady Gaga's performance of "Applause," which was provocative in its own right. In fact, MTV's video highlight of the Smith family shows they really weren't shocked at all. Will Smith and his daughter, Willow, appear to be chewing gum—not gasping as the picture makes it seem. Jaden Smith's disapproving look turns out to be just intense focus on Gaga's music. The woman sitting next to Will Smith appears to be covering her mouth in horror in the photo, but the video clip shows she was just rubbing her nose.
Several news organizations never bothered to fact-check the source of the photo or the original video to see if the Miley meme was accurate.
Considering the fact that more than 200 million people use Twitter and many more use other social media sites, it should be no surprise that misleading information will sometimes spread on feeds and blogs. And once something goes viral on the Internet, it's very difficult to bring it back.
"I guess we're all prone to becoming subject to confirmation bias, especially at a young age," said Noshin Nawar, a Northside junior. "It's more funny to have the Smiths' reaction be applied to Miley than it is to Lady Gaga, mostly because we had a stronger reaction to Miley.
"It is even worse to think that it is OK to falsify information just so it supports what we want it to support," she said. "We need to keep ourselves from exercising that idea."
Lane Tech senior Nushrat Jahan agrees. "See, Lady Gaga is known for her somewhat unusual behavior. With Miley, some of the more scandalous things she might do are ones that meet a lot of backlash.
"The Smith family is one of the most respected families in Hollywood. To see that Will and the rest of them 'were in awe' at her behavior helps the rest of the public justify their own reaction. … Of course, I see a lot of people who watched the VMAs also fell into that trap, so there's a bit of stupidity at play here too," Jahan said.
But many people fell into the trap because they believed normally trustworthy publications that were duped too. RedEye social media editor Jessica Galliart said there are perks and pitfalls to following a lot of publications on Twitter.
"It's important to follow everything even though you don't trust it all because you can still learn something from it," she said. "I don't trust (gossip site) Radar Online, but we can pick up things that are trending that way."
Once accurate information about the Miley meme was presented—slate.com and mashable.com were two sites that called out the error—many of the blogs that publicized the wrong assumption went back and fixed the mistake in their reports.
According to Galliart, owning up to the error was the right thing to do. "Publications need to be upfront and explain what happened," she said. "They need to thank readers for pointing things out because they didn't mean any harm.
"The Internet is not afraid to correct things, so it's important to check other sources."
Although the transition of print to online news has been controversial, Galliart said the Internet sometimes can be more dependable than newspapers.
"Information on the Internet can be more reliable because their things can be corrected right away. It takes another 24 hours for something to be corrected if it was a print newspaper," she said.
—THE MASH CONTRIBUTED.
BEFORE YOU GO
PHOTO GALLERY
Disney Channel Stars Share Their Favorite Summer Memories