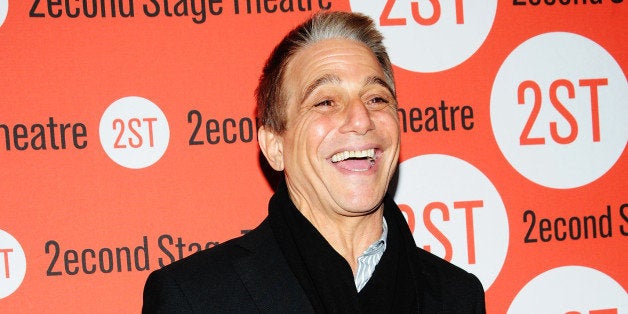 Porn just ain't what it used to be.
In a conversation following a special HuffPost screening of "Don Jon" at the Landmark Sunshine Theater in Manhattan last night, Tony Danza explained to an audience of twenty- and thirty-something editors how difficult it was for teenagers to acquire smut back in the analog days.
"When I was a kid, if you wanted pornography you had to raid your uncle's magazines or you had to go down to the store and buy a magazine," said the "Who's the Boss" actor, who was born in Brooklyn in 1961. "You had to pick up the magazine, you had to walk to the counter, the guy probably knew you, your neighbor walks in. It tremendously governed our behavior. You wouldn't want to put yourself through that."
Joseph Gordon-Levitt wrote, directed and stars in "Don Jon," which tells the story of a pumped-up Italian American from New Jersey whose prowess as a pickup artist earns him the nickname referenced in the title. But it's his addiction to online pornography that gives the film its narrative momentum, as Jon struggles to find satisfaction with a flesh-and-blood female.
Danza has a series of hilarious scenes as Gordon-Levitt's foul-mouthed father, whose attitudes toward women may be even less evolved than those of his son. In real life, however, Gordon-Levitt was influenced by his mother -- "a big-time feminist," as Danza put it.
To Danza, the film explores the way access to simulated sex creates obstacles to real-life intimacy. He used his own experience as a successful TV actor to make the point.
"When I was looking to find the woman of my dreams, I was consumed by this. Forget about it. I was like a maniac," he said. "And because I had a series -- I'll be perfectly candid -- because I had a series, I could pretty much have whatever I -- I could do what I wanted to do. And so that because like almost an obstacle to finding someone. You know, you could make a check list. You could really say, 'You know, I don't like her feet.' You could do anything you want. And so that kind of stuff is what happens when you watch [porn], you start saying, 'Well, it's supposed to look like that, it's not supposed to look like that, and I shouldn't have to feel this way. If I have to put any effort in, that's something else.'"
As a father, Danza admitted to feeling wary of guys like Gordon-Levitt's character: "If you've been watching pornography since you were 11 years old, do I really want you marrying my daughter?
Asked if he worried that Italian-Americans could object to their portrayal in the film, Danza said, "Listen, I hope not. I'm very cognizant of it just like I am of any other culture. I'm a little sensitive about it every once in a while."
Danza said he and Gordon-Levitt go way back: "I've known him for 20 years. When he was 12, we did Angels In The Outfield together. I'm 42. He's 12." They shared an appreciation for rollerblading at the time, but the young Gordon-Levitt wasn't always available to skate. "Every once in a while I would say, 'Hey Joe, let's do it.' Joe would say, 'No, I have to follow the director today.' He was a rotten kid even then. No, he's a very serious guy and very driven."
Danza said he will appear in an episode of Gordon-Levitt's upcoming variety show, "HitRECord on TV!," set to premiere on Pivot on Jan. 18, 2014. "His idea is really philosophical, actually. He did eight shows and each show is about a concept," Danza said. "The first one is about the number one and how being No. 1 plays in our society and in our culture. The episode that I am in is called 'Fantasy,' and we do a crazy dance number. It's called 'It's Fantastic.'"
But he saved his highest compliments for Gordon-Levitt and the film. "I think it's very brave. Don't you think it's brave?" he said. "When you have a computer in front of your you-know-what, it's a brave thing."
BEFORE YOU GO
PHOTO GALLERY
Fall Movie Preview 2013