Welcome to "Moving Image," our weekly roundup of the best photos from around the world.
The following images tell the story of the past seven days' most compelling events, capturing happenstance moments and monumental occurrences all over the globe.
Our picks for this week are:
1. This Navy soldier in a field of flowers. Navy Quartermaster Matthew Konchan of Johnstown, Pa., stands in a field of Black-eyed Susan as he waits to participate in a wreath laying with Secretary of the Interior Sally Jewell during a memorial service at the Flight 93 National Memorial on Wednesday, Sept. 11, 2013 in Shanksville. (Gene J. Puskar/AP)
2. This photo of Afghan officers at graduation. Afghan police officers attend their graduation ceremony at a a national police training center in Jalalabad, east of Kabul, Afghanistan, Sunday, Sept. 8, 2013. Over a hundred National police officers graduated from a two-month training program in Jalalabad. (Rahmat Gul/AP)
3. This baseball player knocking it out of the park. The flash from a fans camera illuminates San Francisco Giants Buster Posey as he fouls off a pitch from Colorado Rockies' Matt Belisle in the eighth inning of a baseball game Monday, Sept. 9, 2013, in San Francisco. (Ben Margot/AP)
4. This shot of Tokyo delegates celebrating their 2020 Olympic Game victory. Members of the Tokyo 2020 delegation celebrate after Tokyo was awarded the 2020 Olympic Games during the 125th IOC session in Buenos Aires, Argentina, Saturday, Sept. 7, 2013. Tokyo defeated Istanbul in the final round of secret voting Saturday by the International Olympic Committee. Madrid was eliminated earlier after an initial tie with Istanbul. (Ian Watson/Pool/AP)
5. A Nepalese woman washing her hands. A Nepalese woman washes her hands before offering prayers at the Pashupatinath Hindu temple during Teej festival celebrations in Katmandu, Nepal, Sunday, Sept. 8, 2013. During the festival, married Hindu women observe day-long fast and pray for their husbands and a happy married life while those unmarried pray for a good husband. (Niranjan Shrestha/AP)
6. The crew finishing the final details behind the scenes of New York Fashion Week. Production crew work on final details on the runway set for the showing of the J. Mendel Spring 2014 collection on Wednesday, Sept. 11, 2013 in New York. (Bebeto Matthews/AP)
7. The Fantasia festival in southern Morocco. In this Saturday, Sept. 7, 2013 picture riders perform the traditional Fantasia at the Moussem festival in Tan Tan, southern Morocco. The UNESCO-sponsored festival is a gathering of thousands nomads from Morocco. The festival did not take place for 30 years before 2004 due to political conflict in Western Sahara. (Abdeljalil Bounhar/AP)
8. These pups chilling out backstage.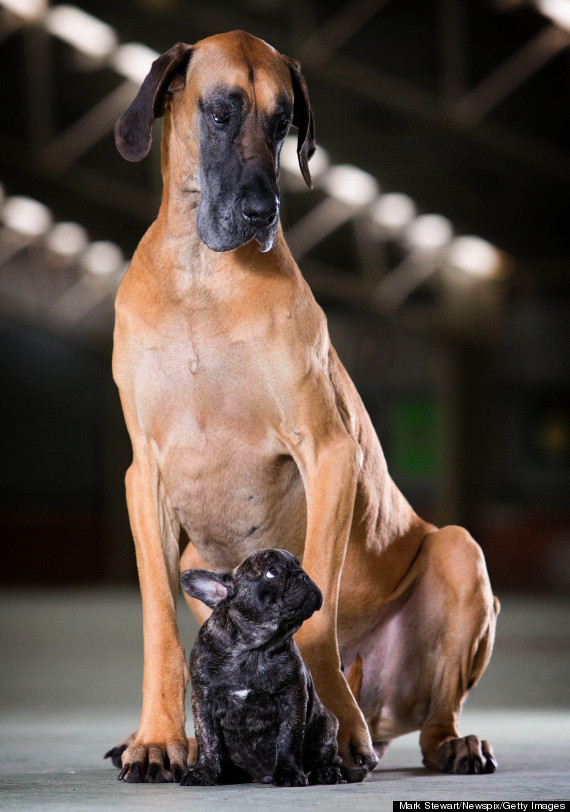 Great Dane 'Oscar', whose show name was Annador 'How Sweet It Is', poses alongside 12-week-old French Bulldog 'Hunter', ahead of the Royal Melbourne Championship Dog Show, on September 5, 2013 in Melbourne, Australia. The Royal Melbourne Championship Dog Show is the largest in the Southern Hemisphere with over 200 breeds and more than 4000 dogs competing. (Mark Stewart/Newspix/Getty Images)
9. These ladies rocking traditional "Ao Dai" dress in Hanoi.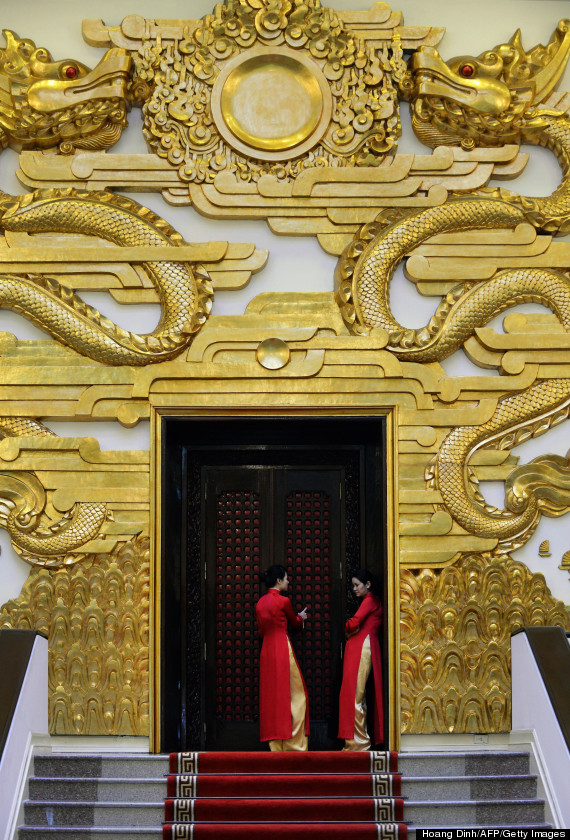 Female staff in traditional "Ao Dai" dress stand outside the entrance of a meeting room as visiting Singaporean Prime Minister Lee Hsien Loong and his Vietnamese counterpart Nguyen Tan Dung hold their official talks at Dung's cabinet office in Hanoi on September 11, 2013. Lee began a three-day official visit focused on both bilateral and regional issues including that of tense situations on the Southern China Sea. The two countries announced at a joint press conference they raised their relationship to "strategic parteners" level. (Hoang Dinh/AFP/Getty Images)
10. These women taking a ritual bath.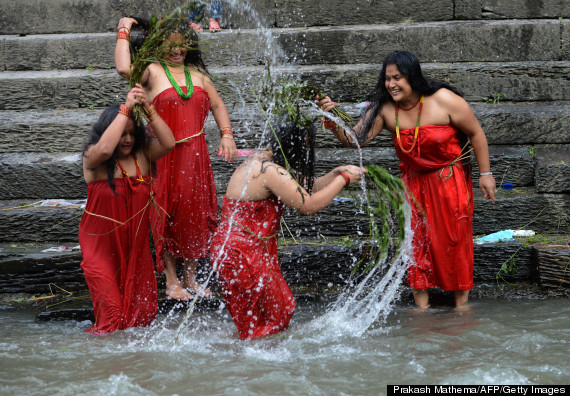 Nepalese Hindu women take a ritual bath in the Bagmati river during the Rishi Panchami festival in Kathmandu on September 10, 2013. Rishi Panchami marks the end of the three-day long Teej festival, in which married women fast and pray for the good health of their husbands to Shiva, the Hindu god of destruction, while unmarried women wish for handsome husbands and happy conjugal lives. (Prakash Mathema/AFP/Getty Images)
11. These belly boarders preparing for the championship.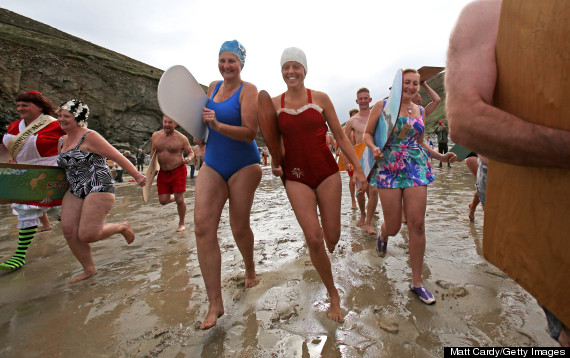 Belly boarders run into the sea to take part in the first heat of the annual World Belly Boarding Championships at Chapel Porth on September 8 2013 in Cornwall, England. Over a hundred surfers of all ages and all on traditional wooden belly boards, gathered for the annual charity event organized for the National Trust and the Royal National Lifeboat Institution (RNLI). The event was started in 2002 as a celebration of how surfing began in Britain more than a century ago and because, since the 1920s, Cornwall has become the focus for surfing in the UK. Originally surfers used the wooden 'belly boards' on which they laid down and it was only later that they started standing up, with Cornwall having the first visual evidence of that, in 1929. (Matt Cardy/Getty Images)
12. These cattle herders enjoying the sunshine.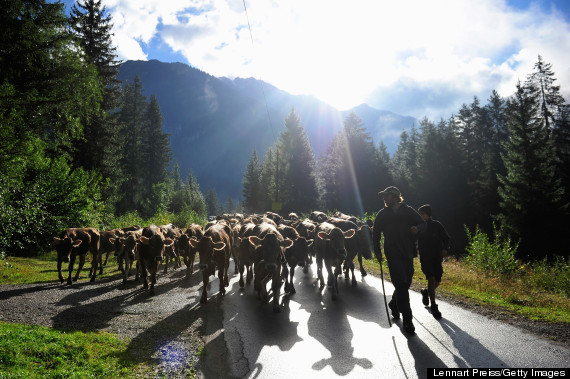 Alpine cattle herders escort cows down into the valley during the annual Viehscheid cattle drive on September 11, 2013 near Bad Hindelang, Germany. The herders lead the cattle in May or June up into the Bavarian Alps to spend the summer grazing on alpine meadows and lead them back down to farms in the valley in September. If all the animals survive the summer then the herders place a flower wreath around the lead cow for the descent. (Lennart Preiss/Getty Images)
13. These sweet rides reflecting major light.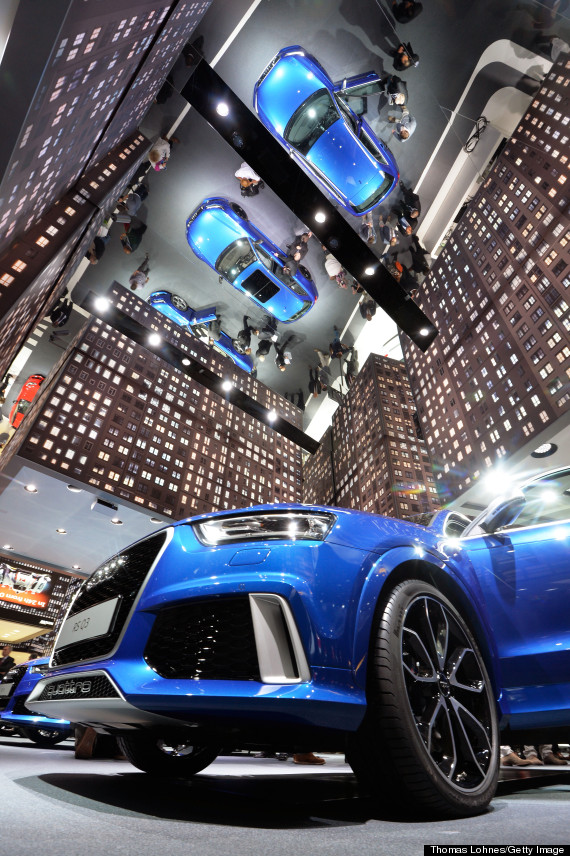 Audi cars reflect in the mirror unter the ceiling at the IAA international automobile show on September 10, 2013 in Frankfurt, Germany. The world's biggest motor show, the IAA, is running from September 12 to 22, 2013. More than 1.000 exhibitors from 35 countries will present their products during the show. (Thomas Lohnes/Getty Images)
14. This photo of what goes down in a slaughterhouse.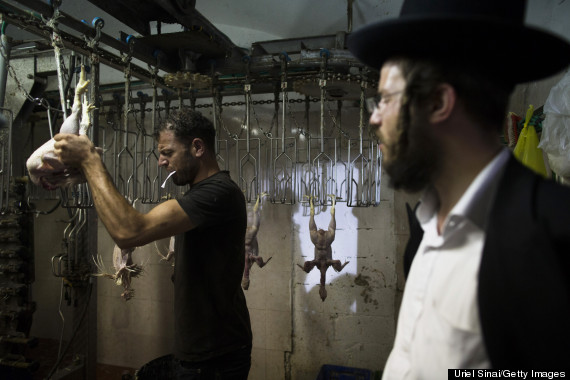 A man waits for his chickens to come out of a cleaning machine in a slaughterhouse as Ultra-Orthodox Jews perform the Kaparot ceremony on September 9, 2013 in Jerusalem, Israel. The Jewish ritual is supposed to transfer the sins of the past year to the chicken, and is performed before the Day of Atonement, or Yom Kippur, the most important day in the Jewish calendar, which this year will start on sunset on September 13. (Uriel Sinai/Getty Images)
15. This photo of a woman remembering her fiance on September 11.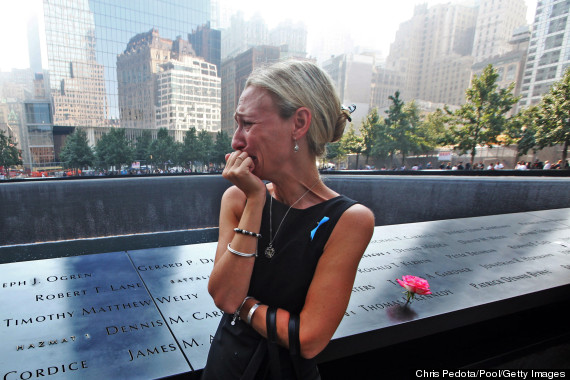 Carrie Bergonia of Pennsylvania looks over the name of her fiance, firefighter Joseph Ogren at the 9/11 Memorial during ceremonies for the twelfth anniversary of the terrorist attacks on lower Manhattan at the World Trade Center site on September 11, 2013 in New York City. The nation is commemorating the anniversary of the 2001 attacks which resulted in the deaths of nearly 3,000 people after two hijacked planes crashed into the World Trade Center, one into the Pentagon in Arlington, Virginia and one crash landed in Shanksville, Pennsylvania. Following the attacks in New York, the former location of the Twin Towers has been turned into the National September 11 Memorial & Museum. (Chris Pedota/Pool/Getty Images)
16. This trippy light installation in Germany. Visitors enjoy the illumination of Japanese artist Ryoji Ikeda inside a power plant of a former steel plant in Duisburg, Germany, Friday, Sept. 13, 2013. The light installation in black and white, connected with sound, is supposed to reflect data streaming and is seen in line with the art exhibition 'Ruhrtriennale'. The former steel plant was switched to an adventure museum after it was closed down in 1985. (Frank Augstein/AP)
17. This leggy model strutting it in Madrid. A model displays a Spring/Summer design by Ana Locking during Madrid's Fashion Week, in Madrid, Spain, Friday, Sept. 13, 2013. (Daniel Ochoa de Olza/AP)
18. Afgan refugees and Pakistani children taking an exam at school. Afghan refugees and Pakistani children, who were displaced with their families from Pakistan's tribal areas due to fighting between the Taliban and the army, attend an exam at their school in a poor neighborhood on the outskirts of Islamabad, Pakistan, Thursday, Sept. 12, 2013. Official statistics released by the Federal Education Ministry of Pakistan give a desperate picture of education for all, especially for girls. The overall literacy rate is 46 per cent, while only 26 per cent of girls are literate. (Muhammed Muheisen/AP)
This story appears in Issue 66 of our weekly iPad magazine, Huffington, in the iTunes App store, available Friday, Sept. 13.
PHOTO GALLERY
Moving Image 2013: The Year's Best Photos