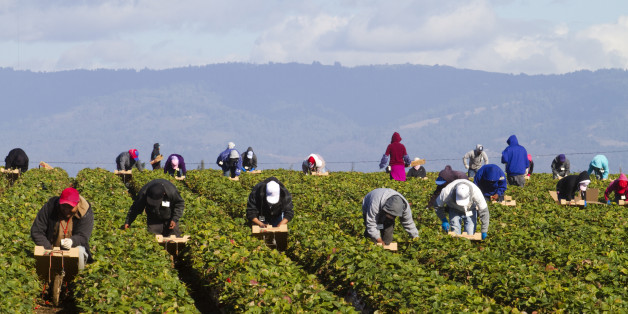 Fighting back against a horrifying trend of sexual assaults in the farming industry, a female farmworker in California has filed a lawsuit against her employer, alleging she was raped on her very first day of work.
California Rural Legal Assistance, Inc. and law firm Villegas Carrera, LLP filed a suit Thursday on behalf of Madera County farmworker Maria Moreno seeking both monetary relief and an injunction that "the defendants take affirmative actions to provide safe and equal opportunities for all workers," according to a press release.
"Our community needs to be aware that sexual assault is happening in the fields and we cannot turn a blind eye," wrote CRLA attorney Felicia Espinosa in a release. "It should not be a rare situation where an assault on a farmworker woman is prosecuted."
In the suit, Moreno alleges she was sexually assaulted by her current employer, Parjmit Singh Bassi, at Lucky Farms in Chowchilla on Oct. 2, 2011. Moreno claims he told her not to tell anyone and threatened to assault her the following day.
"I was scared, but I filed this case so it does not happen to another woman," Moreno wrote in a statement.
Bassi has been charged with two counts of rape.
"Employees should never be forced to endure any form of sexual harassment as a condition of work," wrote Espinosa. "Ms. Moreno is a courageous individual whose strength is hopefully an inspiration for other women to come forward."
Bassi's attorney, Charles Magill, claimed the events were different.
"This is a frivolous lawsuit brought on by a lady who is manipulating the system and taking advantage of everything that is provided to an illegal alien," he told The Huffington Post.
Magill claimed that the sexual act between Bassi and Moreno was consensual, and that Bassi paid Moreno for her sexual services. He said that Moreno filed the complaint one day before an expected eviction.
"Obviously she's been made aware of all the privileges she receives by making a claim against an employer," he told HuffPost. "She knew she could apply for and receive funding from the state for being a victim of violent crime. This is a total fraud built on a desire to squeeze money out of an honest farmer. She's taking the opposite route of the American dream by sucking the blood from the system."
In an email to HuffPost, Espinosa called Magill's claim "unfortunate."
"It is unfortunate that Ms. Moreno is being re-victimized with such accusations," she said. "But her strength is evident in that she is willing to come forward to stop the victimization of other farmworker women."
BEFORE YOU GO
PHOTO GALLERY
10 Major U.S. Federal Immigration Laws