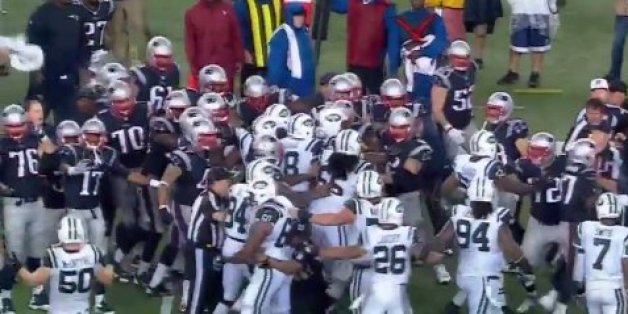 A sloppy game between the Jets and Patriots ended in ugly fashion with a fight in the final minute.
With the Jets trailing 13-10 and looking for another improbable win, rookie quarterback Geno Smith was intercepted by Patriots cornerback Aqib Talib. The interception sealed the Patriots' win but also ended up sparking a melee. Jets center Nick Mangold delivered a low, late hit to Talib, who had returned the interception near the Patriots' sideline and eventually spun out of bounds. Several New England players nearby rushed at Mangold after the play. Jets players then swarmed to the scene and a fight broke out that even included a foul against an official.
Once the officials managed to separate all the players mired in the scrum, Mangold was hit with a 15-yard personal foul penalty. Jets left guard Willie Colon and tackle D'Brickashaw Ferguson were ejected. Colon was tossed for pushing an official while Ferguson got the boot for throwing a punch. He appeared to be mixing it up with Patriots defensive tackle Vince Wilfork and cornerback Alfonzo Dennard, among others.
"I hope I don't get suspended," Colon said after the game, via Manish Mehta of the New York Daily News. "I lost my temper. I lost my cool. I know better, so it's my fault."
After New England coach Bill Belichick made sure that all ejected Jets were sent to the locker room, Tom Brady took a knee to bring a close to another contentious chapter in the Pats-Jets rivalry.
BEFORE YOU GO
PHOTO GALLERY
PHOTOS: Jets vs. Patriots