U.S. government policies since the recession have benefited the wealthy significantly more so than they have helped the poor and middle class, according to a new report by the Pew Research Center.
The report, entitled "Five Years after Market Crash, U.S. Economy Seen as 'No More Secure,'" was based on interviews with 1,506 U.S. adults in early September. The report didn't mention any specific government policies.
Roughly 38 percent of those surveyed said that post-recession policies have helped the rich "a great deal." Only 8 percent and 6 percent said recent policies have greatly benefited the poor and the middle class, respectively. Here's a breakdown by Pew: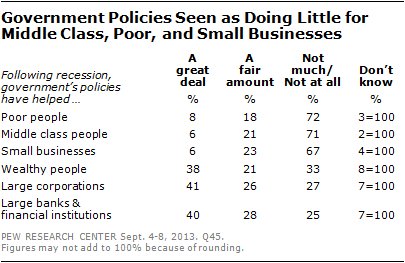 As you can see, the public also believes the same stark divide exists between Wall Street and large corporations on the one hand, and small businesses on the other.
Are Americans correct in thinking that the the poor and middle class have been left behind?
Two charts might help provide an answer. In the first, you'll see that the bottom 93 percent of Americans actually got poorer between 2009 and 2011, a time when the rich saw their net worth jump by 28 percent: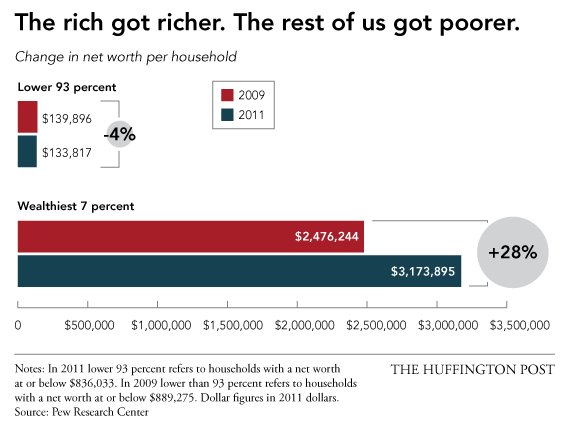 The second shows the corporations returning to form in the last couple years, while wages have struggled to keep pace: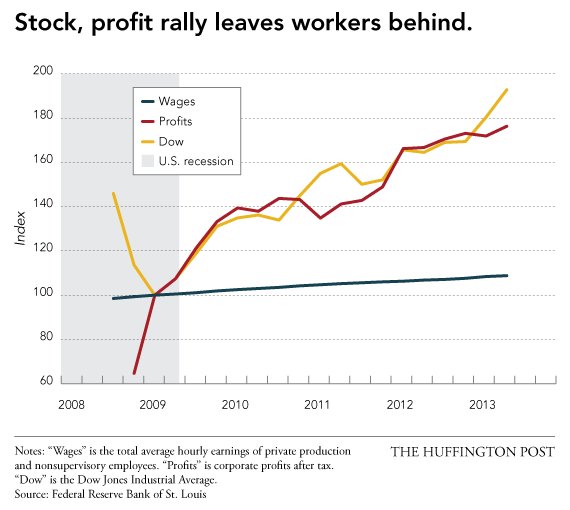 You decide.
BEFORE YOU GO
PHOTO GALLERY
What Minimum Wage Haters Won't Say