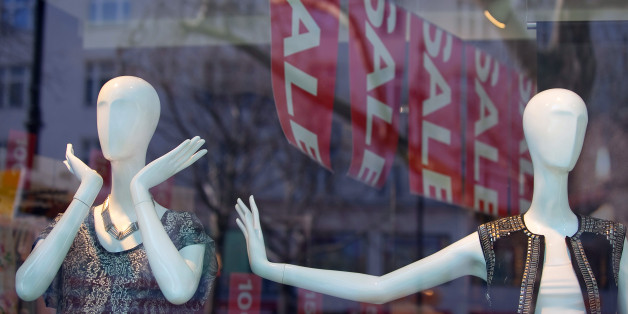 Ann Taylor, Gap, Club Monaco -- there are stores where you should never buy anything full price. That's because everything is always going on sale, from 3-for-$25 t-shirt deals to those "can't miss" Labor Day sales that you can obviously miss because it's all going on sale next month anyway.
This ever-quickening turnover of clothing in and out of stores, says Robin Givhan, just isn't sensible. Givhan, a seasoned fashion critic for the Washington Post and then Newsweek/Daily Beast, spoke about the frenzied fashion cycle in a Reddit AMA today. Social media, she said, is now influencing the demand for clothing... but really it's the stores' fault:
Retailers talk a lot about how the availability of show images pique the interest of consumers before the clothes are available. But i blame retailers for creating a system in which they want spring clothes in November and more shipments every five second and then putting things on sale when they've only been on the racks for one second. I don't really understand the urgency for retailers who are not selling fast fashion. Sure, I might want my local H &M refreshed over few weeks. But if I'm investing in a $2,000 dress, i want to have a sense that it's going to be relevant for a while. When stores move it out or put in on sale so quickly, it's almost like saying the store doesn't have a lot of faith in it.
Part of the reason retailers push clothing into stores faster in because they can. Back in the 1950s and 1960s, mass consumers shopped mainly at department stores, which had to buy the clothes from manufacturers. But over the next decade, retailers began to manufacture themselves, cutting out the middleman and giving themselves control over how fast the product was distributed.
And the process has only gotten faster. Stores no longer replenish their stock every few months, or once a season, but rather every single week, if not multiple times a week. As the New York Times reported, fast fashion meccas like Zara can get clothes designed, manufactured and in stores in just one month -- and repeat that process every month of every season all year long.
The result is a maddening churn of clothing in and out of stores, every shipment chasing down a new trend and a lower price point. But as Givhan notes, not every store should have to keep this pace. H&M and Forever 21 will always be known for their high turnover (and low prices), but it might not make sense for high end stores to run themselves ragged trying to change up their goods every week.
Plus, as she says, "When stores move it out or put in on sale so quickly, it's almost like saying the store doesn't have a lot of faith in it." And we know what fast-paced distribution means for the quality of the clothing.
We know we often feel exhausted from the constant turnover in stores. Do you think there are too many sales and stores are moving too fast with seasonal items?
We have a love-hate relationship with fast fashion:
PHOTO GALLERY
Stores We Don't Shop At Anymore
Want more? Be sure to check out HuffPost Style on Twitter, Facebook, Tumblr, Pinterest and Instagram at @HuffPostStyle.