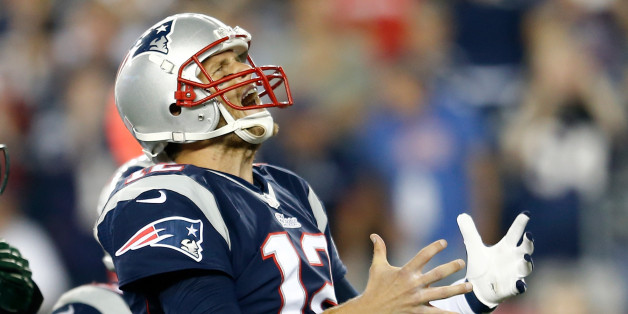 Tom Brady played with Wes Welker. He knew Wes Welker. Wes Welker was a wide receiver of his. Current Patriots wide receivers, you're no Wes Welker.
With several of his young teammates struggling early against the New York Jets on Thursday night, the New England Patriots' quarterback erupted on the sideline during the second quarter. After Brady's offense was held to a field goal on a trip into the red zone, the two-time NFL MVP appeared incensed about the execution on the most recent third down. On that 3rd-and-5 play from the Jets' 12-yard line, Brady had thrown the ball between wide receivers Aaron Dobson and Julian Edleman. It bounced harmlessly near Dobson's feet as the Jets forced kicker Stephen Gostkowski onto the field.
"I've got to do a better job with my body language," Brady said after the Patriots held on for a sloppy 13-10 win, via NFL.com. "I can definitely improve on that. I wouldn't say that's a real strong point of mine right now."
A season ago, Brady piloted an offense that included Welker, Brandon Lloyd and Deion Branch at wide receiver, tight ends Rob Gronkowski, Aaron Hernandez and the versatile Danny Woodhead in the backfield. Those players accounted for 354 catches last season. Brady had 401 completions.
"We have a long way to go, so no one is coming to rescue and save the day," Brady said after the game.
BEFORE YOU GO
PHOTO GALLERY
PHOTOS: Jets vs. Patriots