Think the United States is the only country that engages in very serious, somewhat bizarre civil war reenactments? Think again.
These photos demonstrate that like those from the American South, South Koreans are extremely proud of their historic conflicts. The images capture the reenactment of the Battle of the Naktong Bulge, when an alliance of southern troops, the U.S., and the United Nations successfully fought off a North Korean offensive in September 1950.
Check out these striking photos alongside those taken during reenactments of the Battle of Gettysburg, which prove that even oceans apart, our two countries share much in common.
We both face our foes fearlessly: South Korean army soldiers dressed like North Korean soldiers reenact the Battle of the Naktong Bulge near the Waegwan railway bridge in Waegwan, South Korea, Friday, Sept. 13, 2013. (AP Photo/Ahn Young-joon)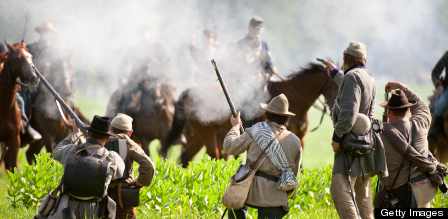 Confederate troops fire at charging Union cavalry troops during a re-enactment of the Battle of Gettysburg on June 28, 2013 at the start of the 150th Gettysburg celebration and re-enactments in Gettysburg, Pennsylvania. (KAREN BLEIER/AFP/Getty Images)
We both go all out, even while playing the enemy: A South Korean army soldier dressed as a North Korean soldier reenacts the Battle of the Naktong Bulge near the Waegwan railway bridge in Waegwan, South Korea, Friday, Sept. 13, 2013. (AP Photo/Ahn Young-joon)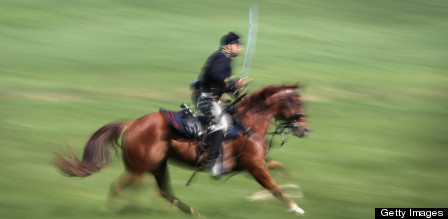 A Union cavalry re-enactor charges his Confederate counterparts during a re-enactment of the Battle of Gettysburg on June 29, 2013 in Gettysburg, Pennsylvania. (Photo by John Moore/Getty Images)
We both need a break:
South Korean army soldiers take a rest before they reenact the Battle of the Naktong Bulge near the Waegwan railway bridge in Waegwan, South Korea, Friday, Sept. 13, 2013. (AP Photo/Ahn Young-joon)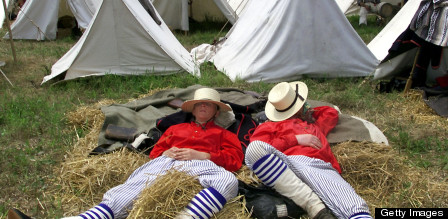 Two participants rest at their campsite as they prepare for maneuvers with the Confederate Army 1st Louisiana Tiger Rifles during the First Manassas Civil War Reenactment 03 August 2001 in Leesburg, VA. (PAUL J. RICHARDS/AFP/Getty Images)
We both need a drink: A soldier from the South Korean army special forces uses his hand to break beer bottles as part of the reenactment event of the Battle of the Naktong Bulge near the Waegwan railway bridge in Waegwan, South Korea, Friday, Sept. 13, 2013. (AP Photo/Ahn Young-joon)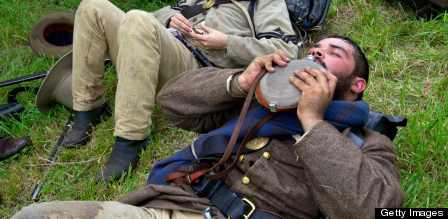 Confederate soldiers take a break during a re-enactment of the Battle of Gettysburg on June 28, 2013 at the start of the 150th Gettysburg celebration and re-enactments in Gettysburg, Pennsylvania. (KAREN BLEIER/AFP/Getty Images)
We both engage in battle mano-a-mano: South Korean army soldiers, some of them dressed as North Korean fighters, in red headband, reenact the Battle of the Naktong Bulge near the Waegwan railway bridge in Waegwan, South Korea, Friday, Sept. 13, 2013. (AP Photo/Ahn Young-joon)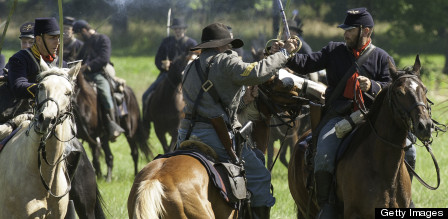 Confederate and Union cavalry engage with sabres during a re-enactment of the Battle of Gettysburg on June 29, 2013, at the start of the 150th Gettysburg celebration in Gettysburg, Pennsylvania. (KAREN BLEIER/AFP/Getty Images)
Sometimes it gets personal: South Korean army soldiers, some of them dressed as North Korean fighters, left, reenact the Battle of the Naktong Bulge near the Waegwan railway bridge in Waegwan, South Korea, Friday, Sept. 13, 2013. (AP Photo/Ahn Young-joon)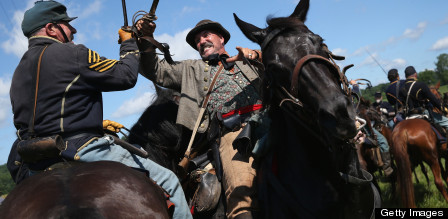 Union and Confederate re-enactors skirmish during a re-enactment of the Battle of Gettysburg on June 29, 2013 in Gettysburg, Pennsylvania. (Photo by John Moore/Getty Images)
And we don't quite know what this is, but if we did, we'd be sure that we probably do it, too:

A soldier from the South Korean army special forces shows his martial art skill as part of a reenactment event of Battle of the Naktong Bulge near the Waegwan railway bridge in Waegwan, South Korea, Friday, Sept. 13, 2013. (AP Photo/Ahn Young-joon)
BEFORE YOU GO
PHOTO GALLERY
Pyongyang Celebrates 60th Anniversary Of Armistice