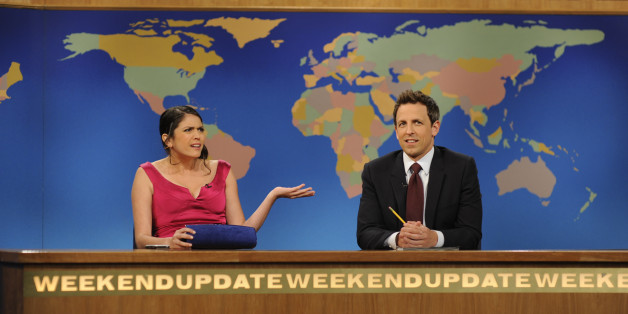 UPDATE: NBC has confirmed that Noël Wells, Beck Bennett, John Milhiser, Kyle Mooney, Mike O'Brien and Brooks Wheelan are joining the "SNL" cast this season.
With Seth Meyers taking over "Late Night" in February of next year, his Weekend Update desk on "Saturday Night Live" will need a new anchor. In an interview with The New York Times' Bill Carter published on Sunday, "SNL" executive producer Lorne Michaels said that "SNL" cast member Cecily Strong will be that anchor.
Strong, who joined "SNL" as a featured performer last season, will co-anchor the mock news segment with Meyers at first, and is expected to fully take over the desk at some point. (Michaels told the Times that he would prefer for Meyers to continue doing Weekend Update even after taking over "Late Night," but is currently unsure how that will play out.)
This season will mark Meyers' eighth season on Weekend Update, which he joined in 2006 as Amy Poehler's co-anchor. Strong has previously made her mark on Weekend Update with her popular character "The Girl You Wish You Hadn't Started a Conversation with at a Party."
Previously, Meyers gave Strong special praise in an interview with Jimmy Fallon, saying that Strong's "natural ability has kind of blown everybody away."
He tweeted a joke about Strong transitioning from a character to a co-anchor:
As for The Girl You Wish You Hadn't Started a Conversation with, it's prob safe to assume that she died somewhere, mid-conversation.

— Seth Meyers (@sethmeyers) September 15, 2013
In addition to the changing of the Weekend Update guard, the upcoming season has drawn more curiosity than most. Over the last two seasons, the show has lost several notable cast members, such as Kristen Wiig, Andy Samberg, Fred Armisen, Bill Hader and Jason Sudeikis.
The long rumored and newly confirmed cast members of the show are Noël Wells, Beck Bennett, John Milhiser, Kyle Mooney and "SNL" writer Michael Patrick O'Brien.
The Times revealed that comedian Brooks Wheelan, who was hired as a writer for the show earlier this summer, will also join the cast. Former featured player Tim Robinson will move from the cast to the writing staff.
The 39th season of "SNL" will kick off on September 28 with host Tina Fey.
For more, click over to The New York Times.
BEFORE YOU GO
PHOTO GALLERY
Weekend Update Hosts Through The Years