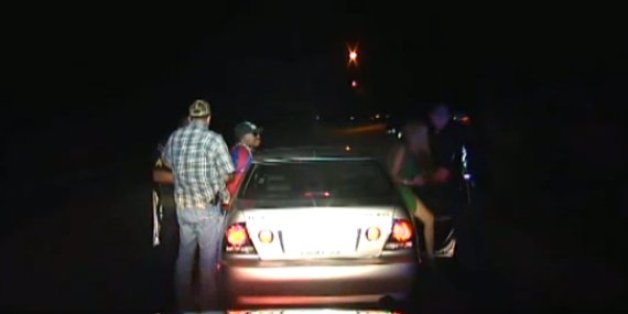 Newly-published video from the dash cam of a Texas sheriff's vehicle shows the amazing moment when police pulled a terrified kidnapping victim from her car unharmed.
The footage is a new element in the already dramatic case of a woman abducted by a gunman in Downtown Dallas, only to be rescued after two quick-thinking teens called 911, according to ABC News.
Aaron Arias, 19, and Jamal Harris, 17, were driving in Seagoville, Texas on Aug. 22 when they noticed a woman in the car in front of them appeared to be mouthing the words, "Help me."
Arias and Harris called 911, then followed the car -- allegedly driven by kidnapping suspect Charles Atkins Lewis Jr. -- along U.S. Highway 175 until police caught up in Kaufman County, according to NBC affiliate NBC DFW.
In the footage published by NBC DFW, police approach the vehicle cautiously, and order Lewis out of the car. A microphone clearly picks up the cries of the victim in the backseat, and another officer circles around and opens the passenger door.
As the distraught victim is helped out of the vehicle, she appears to cling to her rescuer.
Lewis is charged with aggravated kidnapping, according to NBC News.
BEFORE YOU GO
PHOTO GALLERY
Missing People