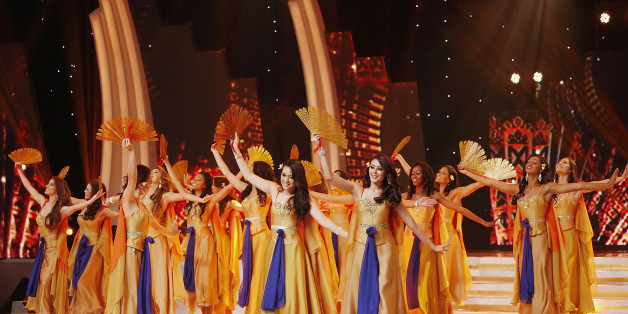 The first-ever Miss Uzbekistan is one of 110 pageant queen hopefuls in the 63rd Miss World Competition. The only problem? Apparently, nobody in Uzbekistan seems to know how 18-year-old Rakhima Ganieva won her crown.
This is Uzbekistan's first year participating in the Miss World pageant, making it the third of former Soviet republics of Central Asia to be made eligible. In late July, the official website of Miss World announced Ganieva as the winner of the Miss Uzbekistan competition. It was reported that the self-described piano and travel enthusiast was crowned on July 20 in Uzbekistan's capital city, Tashkent.
So why does it seem nobody in Tashkent knew about it? Radio Free Europe/Radio Liberty reported that its Uzbek services contacted the Uzbek Culture and Sports Ministry and the National Committee on Women, both of which said they were unaware that Ganieva had participated and that Uzbekistan even had a Miss Uzbekistan contestant competing in Miss World.
Zhavlon Komolov, a representative of the Tashkent-based Pro Models modeling agency, noted that "Rakhima Ganieva never passed through any special selection process in Uzbekistan."
According to Uzbek news site Mezon, the circumstances behind Miss Uzbekistan's crown are hazy. Mezon called all 10 modeling agencies in Tashkent and found that none knew who Ganieva was or had heard of a Miss Uzbekistan pageant occurring earlier that year.
While local authorities were unaware that the event transpired, several United States pageant blogs publicized the results earlier in the summer. Beauty Pageant News described the contest as including "national costumes, catwalk in cocktail dresses and catwalk and interview in evening dresses" (although the webpage that listed that description has since been pulled down). The site said that the event was organized by Interalliance UZ and thanked Animesh Barua, national director of Miss World in Uzbekistan and Kyrgyzstan for the information. Missosology, another pageant site, also publicized the results in its forum, saying, "Thanks to Interalliance UZ for exclusive photos of Rakhima."
Which brings the mystery to Animesh Barua and his company, Interalliance KG, which has a "Department of Models and Beauty" branch claiming to organize several different beauty contests including Miss Kyrgyzstan. The 2013 Miss Kyrgyzstan competition is publicized thoroughly on an official website. That site also posted several of Miss World's interview videos with other 2013 Miss World candidates, including one of the mystery candidate, Miss Uzbekistan.
Interalliance KG makes no mention of an actual Miss Uzbekistan pageant, however, despite apparently distributing pictures of the purported winner on U.S. pageant blogs. In order for Miss Uzbekistan to have qualified for the contest, the "preliminary" round must have been approved by the Miss World pageant. The question remains, though: If there was a pageant, why does it seem to exist only in rumor?
Miss Uzbekistan's Miss World introduction video, posted to MissWorld.org:

A preview from last year's pageant:
PHOTO GALLERY
Miss World 2012
Want more? Be sure to check out HuffPost Style on Twitter, Facebook, Tumblr, Pinterest and Instagram at @HuffPostStyle.