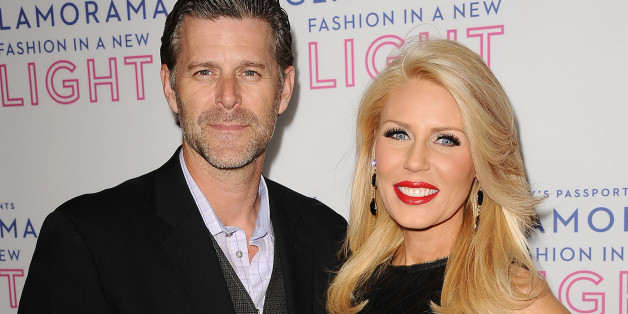 "Real Housewives of Orange County" cast members Gretchen Rossi and Slade Smiley haven't made it down the aisle yet, but they are already planning for kids, lots of kids. And the two are using Brangelina as inspiration.
"We want to be Brad Pitt and Angelina Jolie! That's the goal. At this point, we want to have, like, 26 kids," the 35-year-old told Life & Style magazine of her pregnancy plans.
If Rossi wants to be the next Jolie, a mother of six, she certainly has her work cut out for her. Rossi proposed to Smiley atop the AT&T building in Los Angeles on April 14. Although she now has a wedding to plan, the reality starlet is not counting out getting pregnant before the nuptials.
"We're kind of seeing which is going to come first, so we'll see," she told Life & Style, adding that "[i]t would be really fun to have a girl."
Back in June, Rossi said she and Smiley were taking time to enjoy their engagement but admitted she has babies on the brain.
"I'm struggling because, yes, I really want a baby and right now is good timing to have a baby," she told RadarOnline.com. "I'm 35, so I definitely need to start thinking about it. But there's this other side to me that feels like once you have a baby, it's really hard to go back and plan a wedding."
The two don't have a date set, but she wants to get married at a winery, and they plan to visit Italy this fall to pick a location, Life & Style previously reported. If she has her way, the nuptials will be televised.
Smiley has been helping care for his 12-year-old son, Grayson, who has a neurological disorder and recently underwent surgery to reduce the size of a tumor on his brain, according to WetPaint.