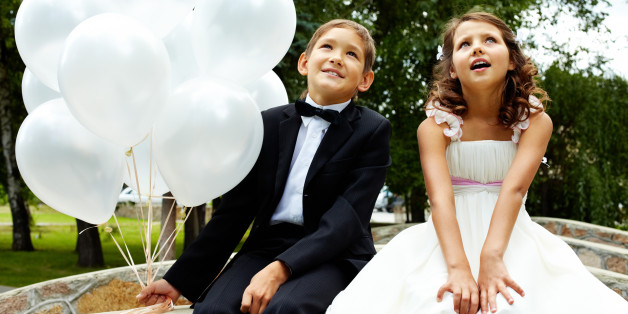 The rules of wedding etiquette are constantly changing, making it difficult for modern brides, grooms and guests to find up-to-date and correct information. But here at HuffPost Weddings, we're all about making your life easier. That's why we've launched #MannersMondays, a weekly series in which we ask our followers on Twitter and Facebook to submit their most burning etiquette-related questions. Then, with the help of our team of etiquette experts, we get you the right answers to your biggest Big Day dilemmas. You can send yours via Facebook or tweet it to us @HuffPostWedding with the hashtag #MannersMondays. Check out this week's question below!

Xochitl Gonzalez -- etiquette expert, wedding planner and HuffPost Weddings blogger -- stepped in to to tell us the most polite (and least awkward!) way to let your guests know kids are not welcome at the wedding. Find out what she had to say below:
In answer to Amber's question, it is OK to have children participate in the wedding, but not have children at the reception. Because by being in the wedding party, they are the exception to the rule. That said, it might serve you well to get a babysitter to come after the cocktail hour and sit with the kids in the bridal party while the reception is going on. I suggest this not so much because a flower girl running around might annoy your co-worker who left her kids at home, but more because if you don't want kids at the wedding, it's usually for a reason. Either you don't want parents distracted by care taking or maybe you'd prefer not to have a bunch of children running around the adult party. To the first point, most flower girls and ring bearers are children of close relatives and friends, and they might appreciate having a sitter close by to relieve them for the night. To the second issue, if you want an adult party, whether it's two kids or 10 kids, kids are children and want to run around and play. So having someone watch them can enable you to have them in your ceremony, but not at the reception without inconveniencing their parents.

As far as getting the word out that you are having a reception for adults… this is tricky. Technically, if I address an invitation to Mr. and Mrs. Farnsworth, you should assume that ONLY you and Mr. Farnsworth are invited and that you will need to arrange for someone to watch your kids. However, over time, we've become less socially savvy as a culture and either pretend to not know or simply ignore the basics of etiquette. This puts the burden on the host to make it particularly clear that the children aren't invited… but how? One option that was in vogue a few years ago was to add the text to the lower corner of the reception card saying "Adult Reception." Some people might find that awkward, but it's certainly clear.

A more subtle way is to incorporate the information on your wedding website if you have one. If you have a "Transportation and Details" page, have one of your details be "Childcare" and include a sentence that says, "As this is an evening event, and we want our guests to be able to kick back and enjoy, we've found a few local babysitting services we can recommend." This goes over especially well if you are having a destination wedding or marrying in a large city, but might come across as odd if you are marrying in a smaller town where everyone knows everyone. The foolproof way to get what you want -- a child-free reception -- is to hire a sitter yourself for the night and make guests aware (through the website or an insert card) that a babysitter will be on-site, should they require it. Yes, it's costly, but it gets the desired result of having the reception be adult-only without having to have any awkward conversations when you get RSVP cards for Mr. and Mrs. Smith and Little Joe and Jenny.
Click through the slideshow below to find out what our readers think about banning kids from weddings.
PHOTO GALLERY
Is It OK To Ban Kids From Weddings?
Keep in touch! Check out HuffPost Weddings on Facebook, Twitter and Pinterest.