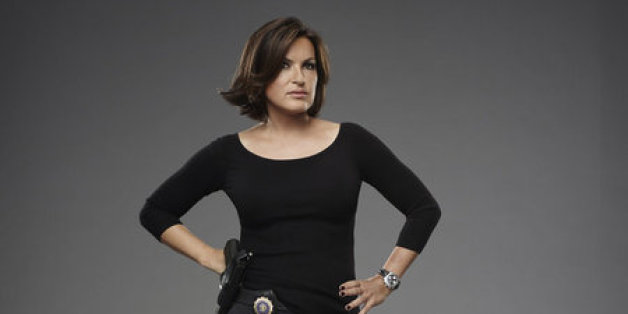 Mariska Hargitay has been changed for good by "Law & Order: SVU" -- those are her words -- despite, and in some ways because of, the horrible things that happen to Detective Olivia Benson.
Season 14 ended with Hargitay's character, Benson, being held at gunpoint by rapist and murderer William Lewis ("Orange Is The New Black's" Pablo Schreiber). For months, viewers have been left in the dark about the fate of America's favorite detective. Would Benson be saved? In the Season 15 premiere, "Surrender Benson," Hargitay's character is put through the wringer.
"It was the hardest thing I've ever done, without a doubt," Hargitay told The Huffington Post at the "SVU" Season 15 premiere party. "Hardest thing I've ever done."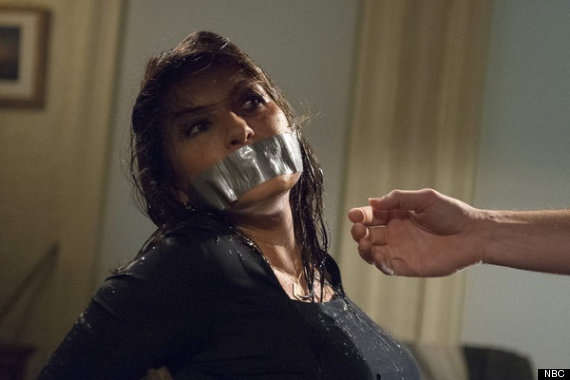 "SVU" showrunner and executive producer Warren Leight co-wrote the episode. "It's one thing to write these scenes, but I think the harder job obviously was acting them," Leight said. "The show has dealt with stories like this for a long time, but I felt like with Season 15, I've got to do something to jolt the audience ... I felt like this show could not get taken for granted and I need to start the year off with a jolt. And also I thought, for Mariska, let me write the most challenging scenes I could write."
Challenging is an understatement. The premiere is full of anxiety-inducing scenes between Hargitay and Schreiber that will leave audiences reeling and send the character of Olivia Benson down a path that will continue to play out throughout Season 15.
"In my mind, after this, her character can never be the same," Leight said. "Studies show this, it changes your DNA. Watching her act it, it doesn't look like her, it doesn't sound like her at times. It changed [Mariska] just performing."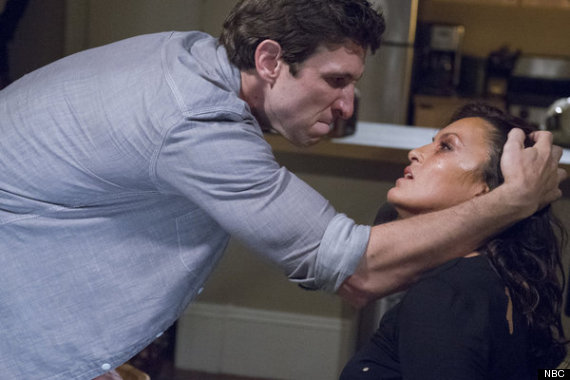 "Law & Order: SVU" and the torment Benson goes through in the Season 15 premiere may be fictional, but there are people in real life who go through those experiences and even worse, Hargitay said. It's an issue that makes the Emmy-winning actress emotional.
"[P]eople go through harrowing experiences like this and I want to honor that and I want to honor courage and being brave and the costs to be brave and courageous," Hargitay said through tears.
Because of her experiences on "SVU," Hargitay started the Joyful Heart Foundation, an organization to raise awareness and help survivors of domestic violence, sexual assault and child abuse.
"It gives me the ability to channel that darkness into light, which is what I'm about. When I learned the statistics of sexual assault, domestic violence and child abuse, I was so horrified ... I felt like I've been given a gift with this show, this platform and the fact of the matter is, when people are talking about issues on television, somehow it makes it safer for people.
"I think we can stop and change this domestic violence and sexual assault and child abuse," she said. "I believe everybody needs to take a stand."
The Joyful Heart Foundation recently launched the NO MORE campaign that is bringing together the sexual assault and domestic violence communities, Hargitay said. "It's our symbol, it's our beacon saying NO MORE, together we can end domestic violence. It starts with simply a conversation."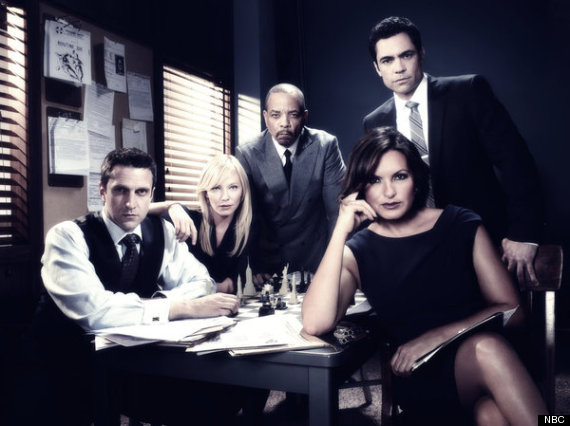 The Joyful Heart Foundation CEO Maile M. Zambuto said the journey viewers will go on with "Law & Order: SVU" and the Benson character as she heals from the ordeal will be empowering.
"I think what it sets up brilliantly, and I feel really proud of her for, is that we're going to go on a journey with Olivia," Zambuto said. "We get glimpses every week of the voices of survivors and survivors' stories, but this takes us to a place where the show hasn't gone to. It takes us to a deeper place of really understanding what it means to be violated in this way, but also to hold out the possibility that you can heal from that and survive it."
After 15 years and countless cases, will the time come for Hargitay to say goodbye to Olivia Benson and hang up her TV badge and gun? Don't bet on it. Leight said the actress is more energized now than when he joined the show in Season 13.
"This show has changed me. I started and I was an actor happy to have a job, and now I feel like I'm so grateful I've found something that moves me so deeply," Hargitay said. "I'm honored to be part of a movement that's changing the way people think, ending ignorance and changing the way people deal with these issues."
"Law & Order: SVU" premieres Wednesday, Sept. 25 at 9 p.m. ET on NBC.
PHOTO GALLERY
'Law and Order: SVU'
BEFORE YOU GO