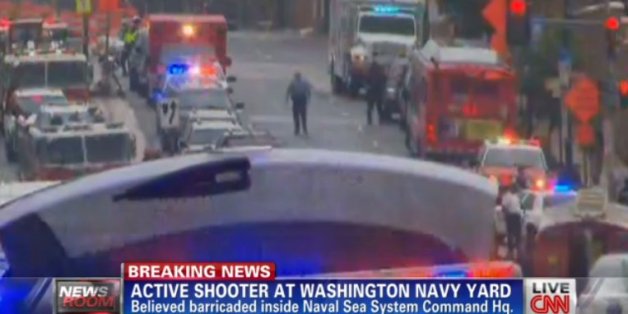 The script followed by the media during the coverage of the shooting at the Navy Yard in Washington is an all-too-familiar one. The story has unfolded in confusing, conflicting pieces, in real time, in front of viewers and on Twitter. And, just as in Newtown, and in Boston, key mistakes have been repeated.
The Navy itself proved to be a chief source of news at the outset:
#BREAKING: #USNavy confirms active shooter at Washington Navy Yard. More to follow.

-- U.S. Navy (@USNavy) September 16, 2013
After that, all of the usual elements began falling into place. Cable news soon went wall-to-wall, and networks broke in with brief special reports.
There were the tweets quoting police scanners, and the admonitions for them to stop, since they have proven in the past to be sources of a great deal of dubious information:
Hey, journalists, stop tweeting the police scanner.

-- Matt Apuzzo (@mattapuzzo) September 16, 2013
Bolling Air Force Base spokesman tells me no shooting there, despite scanner traffic (and ABC report).

— Ryan J. Reilly (@ryanjreilly) September 16, 2013
There were the conflicting reports, based on anonymous sources, about the number of fatalities:
NBC News reporting 4 dead, 8 wounded in Navy shooting.

-- HuffPost Media (@HuffPostMedia) September 16, 2013
BREAKING: Defense official says several killed and as many as 10 wounded in Navy Yard shooting.

-- The Associated Press (@AP) September 16, 2013
There were the contradictory stories about whether or not there was one or more shooter--mostly stemming from a Washington Post report:
3 gunmen involved in shooting at Navy Yard reports @washingtonpost. http://t.co/Iq16X2XhWu

-- The Fix (@TheFix) September 16, 2013
DC Police knocking down reports that there are multiple #NavyYardShooting suspects. #CNN #BREAKING

-- sgallman (@sgallman) September 16, 2013
Police now believe there may be TWO shooters. One down, searching for second. http://t.co/45QiKSoWw6

-- Post Local (@postlocal) September 16, 2013
Expert on Fox News throwing cold water on notion of a second shooter. Says shooter had multiple guns.

— ErikWemple (@ErikWemple) September 16, 2013
Then, NBC and CBS both got the name of the shooter disastrously wrong.
BEFORE YOU GO
PHOTO GALLERY
Navy Yard Shooting