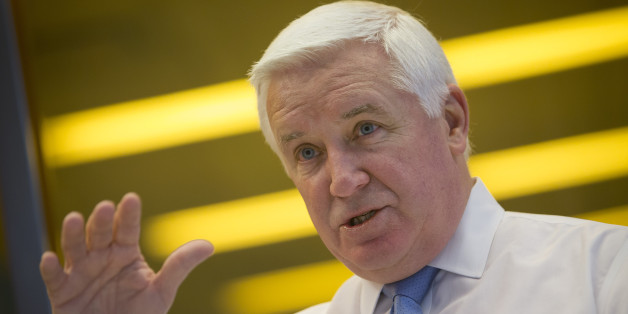 Pennsylvania Gov. Tom Corbett on Monday became the 10th Republican governor to back the expansion of Medicaid, the joint federal-state health program for the poor, under President Barack Obama's health care law, proposing a set of reforms that would extend health coverage to more residents of the state.
At a news conference at a Harrisburg hopsital, Corbett outlined a plan that includes offering Medicaid to more Pennsylvanians by using private health insurance plans and instituting new requirements for all Medicaid enrollees, such as having them pay monthly premiums and demonstrate they are searching for jobs. The plan must pass the state legislature and also win approval from the federal government.
Corbett insisted he would not go forward with an expansion absent the other reforms he seeks. "We cannot afford to expand the current Medicaid program," he said.
Pennsylvania and the federal government combine to spend about $19 billion a year on Medicaid, which currently covers 2.2 million Keystone State residents, or one out of six, according to a summary of Corbett's plan.
"Today I will be sending a formal proposal to the Obama administration -- a Pennsylvania plan based on common-sense reforms to our Medicaid program to make it sustainable now and in the future," Corbett said. He declined to establish a timeframe to move his plan through the legislature and seek federal approval.
The Pennsylvania Senate passed an expansion of the state's existing Medicaid program in June but the House rejected it. Corbett's announcement represents a reversal of his February decision to turn down the Medicaid expansion.
Under Corbett's Medicaid plan, all Pennsylvania beneficiaries would have to pay a monthly premium, and healthy, uninsured, low-income people who are out out work would be required to prove they are seeking a job or participate in the state's job-training programs. Corbett also proposes eliminating most co-payments, such as those for doctor visits, and would offer lower premiums for enrollees who participate in wellness programs. People deemed "medically frail" could receive traditional Medicaid coverage, rather than through the state's federally-run health insurance exchange.
Corbett's proposal calls for Medicaid premiums based on income and capped at $25 for a single person and $35 for a family per month, though they may rise over time based on inflation.
Pennsylvania's Medicaid expansion would follow a model created by Arkansas Gov. Mike Beebe (D) and the Republican-led legislature in his state and is similar to a plan enacted by Iowa Gov. Terry Branstad (R) this year. Those states will provide coverage to at least some people eligible for Medicaid via the health insurance exchanges established by Obamacare.
"We are encouraged by Pennsylvania's commitment to helping cover more of the state's uninsured population. As we have done with other states, we are eager to work with Pennsylvania to provide the best options that work for Pennsylvanians," said Emma Sandoe, a spokeswoman for the federal Centers for Medicare and Medicaid Services, in a written statement.
Obamacare asks states to extend Medicaid to anyone who earns up to 133 percent of the federal poverty level, which is $15,282 for a single person this year. The federal government will cover the full cost of enrolling newly eligible people, mainly healthy adults without children, into Medicaid from 2014 to 2016, after which the share gradually diminishes to 90 percent in 2022 and beyond. For current Medicaid beneficiaries, the federal government pays an average 57 percent of the cost, with states paying the remainder.
Twenty-four states and the District of Columbia already are committed to expanding Medicaid in 2014, bringing health benefits to 9 million people, the Congressional Budget Office projects.
Most Republican governors and majority-GOP state legislatures have refused to adopt the Medicaid expansion, which the Supreme Court ruled last year was optional for states. Those declining to expand Medicaid will leave 3.4 million poor people uninsured, according to the Washington-based consulting firm Avalere Health. The Urban Institute estimates these states also will forego more than $8 billion in federal funding.
Republican governors including Chris Christie of New Jersey, Jan Brewer of Arizona and, most recently, Rick Snyder of Michigan have broken with their party over Medicaid. Ohio Gov. John Kasich (R) and Florida Gov. Rick Scott (R) both endorsed broadening Medicaid in their states but were stymied by GOP legislators. Kasich has continued to campaign for the expansion and the Ohio legislature is expected to revisit the issue this fall.
Under Corbett's proposal, people eligible for Medicaid would sign up for coverage on the health insurance exchange marketplace in Pennsylvania, one of 34 states where the federal government is implementing at least part the program after Corbett declined to establish a state-run exchange.
The health insurance exchanges open on Oct. 1 for people to select coverage that takes effect at the beginning of next year. They are intended to serve small businesses and people who don't get health benefits at work or from a government program like Medicare. Individuals earning up to 400 percent of the poverty level, which is $45,960 this year, are eligible for tax credits to lower the cost of coverage on the exchanges.
Corbett's plan could face resistance from the Obama administration, however. The requirement that Medicaid beneficiaries prove they are searching for employment would be unprecedented and is not allowed under federal law, said Joan Alker, executive director of the Center for Children and Families at the Georgetown University Health Policy Institute in Washington.
"It's not approvable. It's not compatible with Medicaid law," said Alker, who believes states should accept the Medicaid expansion. "Medicaid is a guarantee of coverage. If you meet the eligibility requirements, you can get Medicaid and that's not an eligibility requirement."
Arkansas's and Iowa's partial privatizations of Medicaid are still under review, but federal authorities are likely to provide flexibility for states regarding some new co-payments for medical services and the use of private health insurance plans to provide coverage, so long as the states' plans cover the same number of people with the same set of benefits as the traditional, government-run Medicaid program, Alker said.
The Obama administration will look to approve states' Medicaid plans because they want the maximum number of people to gain health coverage, Alker said, but state proposals must comply with existing Medicaid rules. The federal Centers for Medicare and Medicaid Services laid out the parameters for states interested in expanding Medicaid via the health insurance exchanges in March.
"The administration is very eager to have states move forward and cover this population," provided beneficiaries aren't exposed to burdensome new costs or cuts in benefits that federal law doesn't allow, Alker said.
This article has been updated to include more details of Corbett's Medicaid plan.
BEFORE YOU GO
PHOTO GALLERY
Lies And Distortions Of The Health Care Debate