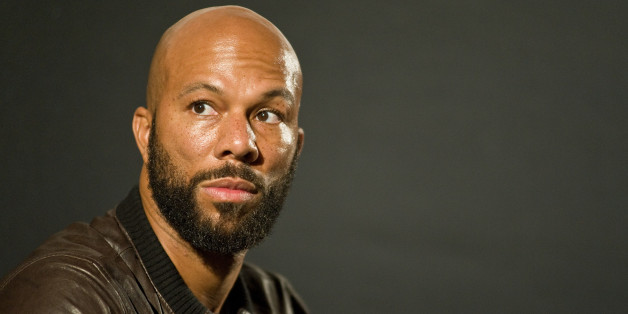 It seems as though no other city can replace Chicago for the multi-Grammy Award winning hip-hop artist Common. After all, he is the emcee who once said, "At times I contemplate movin' to a warmer place. Then the Lake and skyline, give me a warm embrace."
That was back in 1997. Since then, the South Side native has risen to international fame, launched an impressive acting career, and even authored children's books. Still, his sentiment toward his hometown hasn't changed.
Common is now preparing for a homecoming performance with surprise guests, benefitting his foundation Common Ground, at the House of Blues on Sept. 20.
"I'm super excited about coming home to perform at the House of Blues. I haven't performed there in a long time," Common, born Lonnie Rashid Lynn Jr., told The Huffington Post. "I think the most important thing is we are supporting our youth by supporting this event, and in the same token we're just enjoying ourselves."
The Common Ground Foundation organizes recreational programs for inner-city youth, mainly ages 13-15, exposing them to the creative arts and personal expression, as well as outdoor activities and mentorship.
Providing a positive and safe environment for pre-teens to express themselves is needed more than ever in Chicago communities, Common said -- particularly as incidents of violence have led to the city's controversial moniker, Chiraq.
So then, what is the most important message we can give to young people who are witnessing daily violence in their neighborhoods?
"This is a broad thought but loving yourself, and having the support so that you can love yourself is the most important thing that young people in Chicago can get. Because when you love and value yourself, you love and value others," Common said. "You won't put yourself in the position where there's violence."
He added that this 'love yourself' mentality can be issued into the community through youth-focused programs.
"It's our responsibility for the village to say, 'Hey we're going to create these programs,' whether it's sports, creative arts, music, we need some things to give young people positive things to do," he said, "and that's including jobs."
HuffPost recently asked Common to take on select questions from our My Chicago questionnaire.
What's your favorite Chicago-related childhood memory?

Playing basketball is definitely one of my favorite things to do. We had "Biddy Basketball" in south central in Avalon on the South Side. I learned to bond with people from all different walks of life, and the coaches helped develop us into young men.

Which Chicago "celebrity" -- living or dead, real or fictional -- would you have over for dinner? What would you talk about?
·
The first person who came to mind was Minnie Riperton because I love her singing… Oh, and Harold Washington, the first black mayor of Chicago.
Cubs or Sox?
White Sox
Chicago-style hot dog, Chicago-style pizza or Chicago-style politics?

Pizza for sure… The politics is rough out there, and I don't eat hot dogs anymore. But the pizza is unique, you don't get it anywhere else in the world.
What do you miss the most when you're not in Chicago?

I miss my friends and loved ones and family. It's just, being able to ride up and watch the games with my buddies, and see my mother, and enjoy some time with her.
If you could change just one thing about our fair city what would it be?

It's definitely the violence.

Describe Chicago in one word: Soul.
In 1951's "Chicago: City on the Make," Nelson Algren wrote: "Once you've come to be a part of this particular patch, you'll never love another. Like loving a woman with a broken nose, you may well find lovelier lovelies. But never a lovely so real." Through My Chicago, HuffPost is discussing what, to this day, makes the patch we call home so lovely and so broken with some of the city's most compelling characters.
BEFORE YOU GO
PHOTO GALLERY
Celebrities You Might Not Know Were Born In Chicago