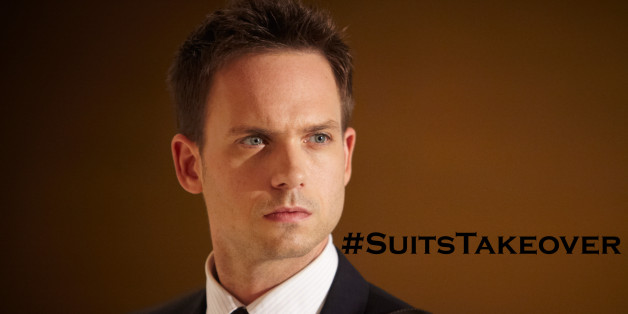 It's a "Suits" takeover!
We adore USA's "Suits" -- in fact, our own Mo Ryan just deemed it "delightful" -- but we're not entirely sure how we'll be able to wait to watch the awesomeness of "Suits" Season 3 continue in 2014.
Heading into the midseason finale (Tues., Sept. 17 at 10 p.m. ET on USA), titled "Stay," we've got a special treat for all you Suitors: Patrick J. Adams, a.k.a Mike Ross, a.k.a. amazing photographer and Instagram favorite, is taking over our new HuffPost TV Instagram account for the day on Tuesday, posting exclusive behind-the-scenes pictures from the show's Toronto set.
Follow @HuffPostTV on Instagram now to see some fun shots from @halfadams, including a tease or two about the midseason finale.
PHOTO GALLERY
#SuitsTakeover On Instagram
Tell us: What kind of cliffhangers do you think are in store on "Suits"?
Here's USA's official description of the "Suits" midseason finale, titled "Stay":
An old nemesis returns to complicate the Pearson Darby negotiations and put Harvey and Scottie on opposite sides once again. Meanwhile, recruiting a new hire puts Louis in Sheila's crosshairs, and Mike and Rachel find themselves in Jessica's crosshairs.
"Suits" midseason finale airs Tues., Sept. 17 at 10 p.m. ET on USA.
BEFORE YOU GO