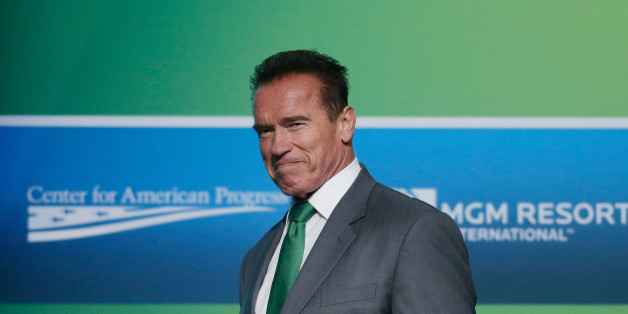 Because not every casting rumor can be about "Star Wars," a new report from film website Latino Review suggests that Arnold Schwarzenegger might re-team with James Cameron for "Avatar 2."
HuffPost Entertainment reached out to Schwarzenegger's representatives for comment on the Latino Review story; this post will be updated if and when they respond. UPDATE, 9/18: "Avatar" studio Twentieth Century Fox denied that Schwarzenegger was cast to The Hollywood Reporter. Further details can be found here.
The original story continues below.
Schwarzenegger and Cameron have enjoyed quite a successful collaboration over the last 29 years. The pair made the first two "Terminator" films together, and reconnected again for 1994's "True Lies." According to Latino Review, Schwarzenegger would be cast as a villain in "Avatar 2," though whether that character would remain evil through the franchise's three remaining films -- or even appear in the other "Avatar" features -- is unclear.
Cameron has amped up his plans for the "Avatar" sequels in recent months, hiring screenwriters for all three films back in August. Cameron will collaborate with Josh Friedman ("War of the Worlds"), Rick Jaffa & Amanda Silver ("Rise of the Planets of the Apes"), and Shane Salerno ("Savages") on the screenplays for "Avatar 2," "Avatar 3" and "Avatar 4." Twentieth Century Fox, meanwhile, will release all three films over the course of three years, from 2016 through 2018.
For his part, Schwarzenegger is expected to return to the "Terminator" franchise for the upcoming fifth film, which Alan Taylor ("Thor: The Dark World") will direct. (Cameron is not involved.) Paramount is scheduled to release "T5" in the summer of 2015.
For more on the Schwarzenegger rumor, head to Latino Review.
[via Latino Review]
PHOTO GALLERY
Celebrity News & Photos