Most couples find themselves making compromises, from the typical give-and-take over household tasks to more serious debates over issues like child-rearing.
But one Craigslist user near Detroit appears to be making an utterly bizarre sacrifice for marriage -- though it's also oddly touching.
(NSFW photo below.)
If this Michigan Craigslist posting is to be believed, a seller is giving up a cherished, ridiculous, and utterly NSFW possession -- a couch made to resemble female anatomy.
"Got married and the wife says it's gota [sic] go," the posting states.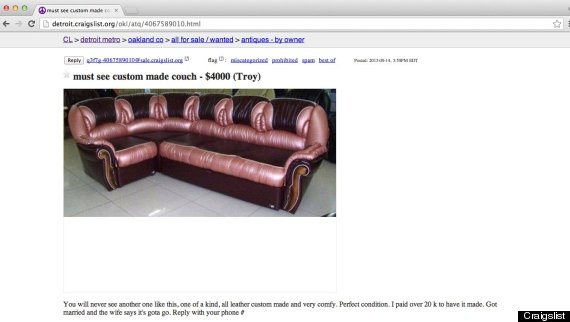 It's hard not to speculate about this couple's backstory -- did the seller, we'll just assume a man, let his custom-made vagina couch go with as little explanation as his Craigslist post? Did he and his wife fight for weeks? Did he make a bargain to keep a similarly-decorated ottoman? One can only wonder. The Huffington Post attempted to contact the seller to learn more, but was not immediately able to reach him.
One thing is certain: even the most go-with-the-flow partner would have trouble keeping this thing in the house. But for the bachelor, or odd furniture collector, don't worry: the piece is said to be in "perfect condition," "all leather" and "very comfy." Not to mention one-of-a-kind.
"You will never see another one like this," the Craigslist poster promises. (For the record, it's not the first Craigslist couch to use the vagina as design inspiration.)
Did you give up a cherished -- or strange -- belonging when you moved in with your partner? Would you ever make your significant other give up a prized possession? Let us know @HuffPostWedding.
Click through the slideshow below for more crazy Craigslist ads:
PHOTO GALLERY
The Craziest Craigslist Ads
Keep in touch! Check out HuffPost Weddings on Facebook, Twitter and Pinterest.