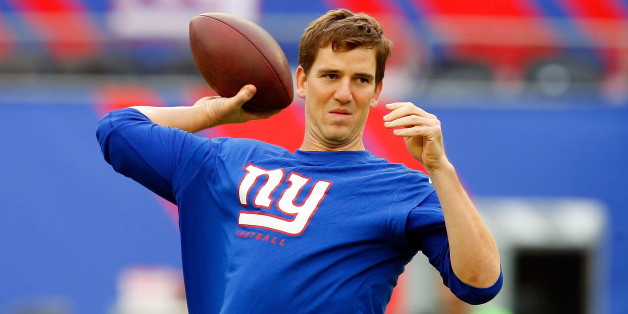 New York Giants quarterback Eli Manning is jumping into New Jersey politics, hosting an expensive football watching fundraiser for Hoboken Mayor Dawn Zimmer (D) later this month.
Zimmer's campaign is circulating invitations to the high-dollar event, featuring Manning and his wife, Abby, PolitickerNJ.com reported. Held on Sept. 30 at a bar in Hoboken, the fundraiser will feature football along with politics. Eli and Abby Manning live in Hoboken.
According to the invitation, which was posted on local political blog Mile Square View, admission to a VIP reception is $1,000 a head or $1,500 a couple, while the general reception is $500 a head or $750 a couple. The Mannings are billed as Zimmer's "special guests" for the event. Don't expect to see photos on Instagram of Eli Manning showing Zimmer how to throw though; PolitickerNJ reported that "no photography is permitted, no autographs will be signed and be advised that no paraphernalia such as footballs, jerseys, hats and the like will be allowed in."
Zimmer is facing off in a nonpartisan November election against state Assemblyman Ruben Ramos Jr. (D) and city Councilman Tim Occhipinti (D). Zimmer, a former city council president, first took office in 2009 after former Mayor Peter Cammarano (D) resigned in the wake of his arrest on corruption charges. Zimmer first gained attention during her 2007 city council campaign when she claimed that tomatoes were growing in the streets from undigested tomato seeds found in raw sewage that flooded Hoboken during excessive rain.
In 2012, Zimmer gave Manning a tour of flooded basement apartments in Hoboken in the wake of Hurricane Sandy, which caused massive flooding in the city.
While this is Manning's first foray into local politics, he is not the first celebrity to participate this year. In August, "Cake Boss" star Buddy Valastro endorsed Gov. Chris Christie (R) for reelection during an event in front of his bakery in Hoboken. Earlier this month, "Scandal" television star Kerry Washington headlined a rally for Democratic gubernatorial nominee Barbara Buono. Washington is the cousin of Buono's running mate, lieutenant governor candidate and union leader Milly Silva.
Democratic U.S. Senate nominee Cory Booker had several celebrity endorsements; a fundraiser for Booker next week in Hollywood will be headlined by actors Ben Affleck and Matt Damon and media mogul Oprah Winfrey campaigned for Booker at an event in August in South Jersey. Actress Lena Dunham has also tweeted her support for Booker over his Republican opponent Steve Lonegan.
BEFORE YOU GO
PHOTO GALLERY
Obama Playing Sports