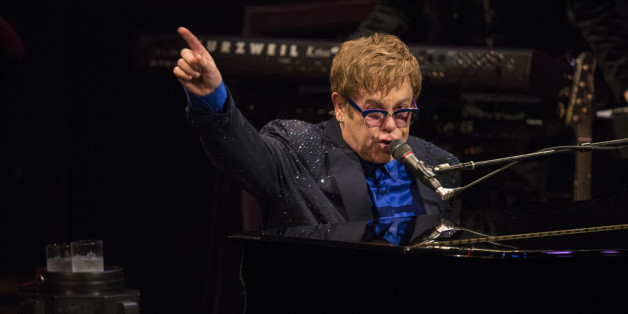 With the upcoming release of his new album "The Diving Board" on Sept. 24 and having played his first festival in 43 years, Elton John has opened up in an exclusive interview with The Guardian about his decision to not cancel a performance in Moscow planned for this upcoming December.
John made his decision despite the violently homophobic climate pervading Russia and the safety threats to openly lesbian, gay, bisexual and transgender (LGBT) individuals in the country, both citizens and foreigners.
John stated,
I've got to go. And I've got to think about what I'm going to say very carefully. There's two avenues of thought: do you stop everyone going, ban all the artists coming in from Russia? But then you're really leaving the men and women who are gay and suffering under the anti-gay laws in an isolated situation.

As a gay man, I can't leave those people on their own without going over there and supporting them. I don't know what's going to happen, but I've got to go.
Having married his longtime partner David Furnish in 2005 in one of Britain's first same-sex wedding ceremonies, John remains one of the longest-standing openly LGBT performers within the music industry. He is also an outspoken AIDS activist, and the author of Love Is the Cure: On Life, Loss, and the End of AIDS.
Over the past several months, Russia has experienced international backlash for its blatantly homophobic legislation, including a controversial "gay propaganda law" and a proposed bill that would take away the children of LGBT parents. The institutionalized homophobic climate has inspired citizens to become anti-gay vigilantes, with LGBT people experiencing violent attacks in broad daylight and one woman even claiming that she is "on safari" hunting gays.
With the approaching 2014 Sochi Olympics complicating international sentiment surrounding the issue of Russia's anti-gay culture of fear and violence, prominent Western members of the LGBT community and allies remain divided on the best course of action. Olympic skater Johnny Weir has stated that he is willing to be arrested in Russia and is adamantly opposed to a boycott of the Olympics, while Cher has turned down an opportunity to perform in the former Soviet Union.
Additionally, pop superstars Lady Gaga and Madonna have both been threatened with legal action if the performers ever return to the country.
What do you think about John's decision to not cancel his performance in Moscow?

BEFORE YOU GO
PHOTO GALLERY
Stars Sound Off On Russia's Anti-Gay Law