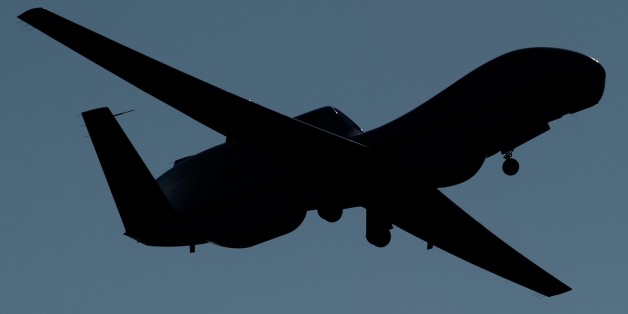 In the not-too-distant past, there was a magazine called GOOD, which was dedicated to all things positive -- philanthropy, advancement ... really, anything that, in their words, was capable of "moving the world forward." The magazine drew on an eclectic band of dedicated contributors, and one day they all came to work after a launch party for their 27th issue to discover they'd all lost their jobs. The word on the street was that the higher minds wanted to take GOOD in a new direction and become a "Reddit for social good" and/or a "platform for 21st century citizenship."
But now, it looks like they want to get way into drone technology with the U.S. Air Force. So a lot has changed, apparently!
BuzzFeed's John Hermann was the first to report on the GOOD press release that "arrived in [his] inbox with a clang":
LOS ANGELES, September 9, 2013 -- The U.S. Air Force and GOOD are pleased to announce the start of the second project in The Air Force Collaboratory, an interactive online platform that invites science, technology, engineering and mathematics (STEM) inclined students, educators and innovators to solve some of the Air Force's toughest challenges. Over 900 ideas have already been submitted by participants in the first project of The Air Force Collaboratory, "Search and Rescue 2.0." Contributors, whether new or returning, are now asked to bring ideas to the "Mind of a Quadrotor" project for creating an autonomous quadrotor system. "Mind of a Quadrotor" launched September 3, 2013 and will remain open through October 31.
Now, none of the projects that GOOD is involved with have anything to do with advanced weaponry or robot killing machines, so it's not like GOOD has transformed itself from a "Reddit for social good" into some Ender's Game prototype for social media-aggregated death-from-above. ("Like this post if you want to bomb Yemen!") At least not directly -- in theory, innovations brought to search-and-rescue technology and autonomous quadrotor drone-copters today could easily benefit the Hellfire missile delivery platforms of tomorrow.
But as Hermann points out, "It's a little jarring," because the old GOOD was highly skeptical, if not critical, of drone warfare specifically and military spending in general. Columbia Journalism Review's Ryan Chittum goes a bit further, calling this "a turn of events that's up there in the annals of Greatest Sellouts of All Time."
Maybe so, but if you cast your mind back to GOOD's mass firing of June 2012, you might remember that one person who was the education page editor, whose work was partially subsidized by the seedy scam artists at the University of Phoenix. So you were warned.
[Would you like to follow me on Twitter? Because why not?]
BEFORE YOU GO
PHOTO GALLERY
Drones: The Future Of Flight