Chicago's Shedd Aquarium on Tuesday marked the 80th anniversary of the arrival of one of its oldest residents: an Australian lungfish named Granddad.
Granddad, who weighs in at 20 pounds and is four feet long, is not only the oldest fish at the Shedd, but it is also, according to the aquarium, the oldest fish living in any aquarium or zoo anywhere in the world.
Story continues below.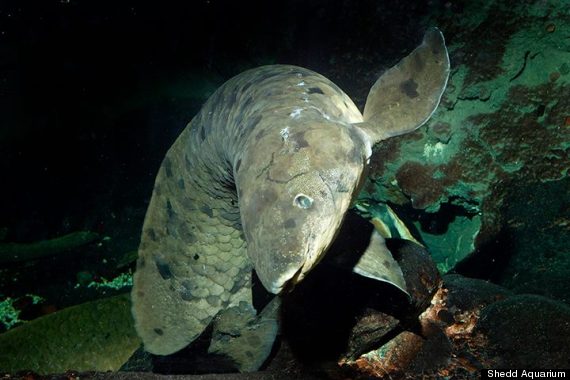 The lungfish arrived at the Shedd during the 1933 World's Fair as the first of its kind to go on display in the United States, according to a news release.
Old Granddad isn't too active -- according to the aquarium, he generally "lingers near the habitat floor like a fallen log. Except to catch some air" about every 25 minutes via a primitive lung that allows him to breathe through his mouth, in addition to through his gills.
Because the aquarium isn't sure of Granddad's exact age -- when he arrived in 1933, he was already full grown -- they are celebrating his anniversary as his birthday with a celebration that comes complete with a cake composed of some of his favorite snacks: Krill, clams, grapes and lettuce, according to CBS Chicago.
BEFORE YOU GO
PHOTO GALLERY
Animals In The News