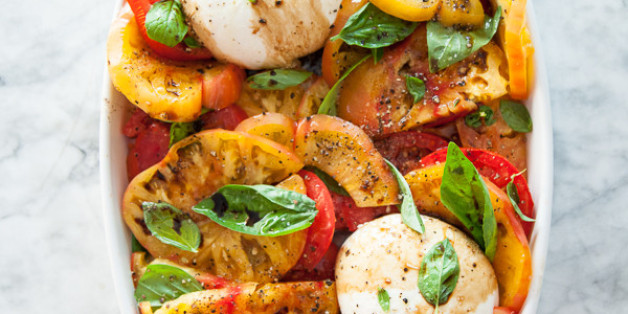 When you have your hands on some of summer's best heirloom tomatoes, you had better be sure you know what to do with them. It's not everyday that you'll get these beauties in your kitchen. When it comes to heirloom tomatoes, you don't have to do much to get the most out of their flavor. Actually, you shouldn't do a lot. The simpler the preparation, the better.
You could easily eat heirloom tomatoes like apples and you'd be doing them justice -- try it, they taste amazing this way. But really, the best way to enjoy these tomato varieties is in a burrata and heirloom tomato caprese salad. This is the only recipe you'll ever need for heirloom tomatoes.
This tomato salad recipe just makes subtle improvements on the beloved caprese salad. Instead of fresh mozzarella, it calls for its creamier cousin burrata. In place of regular tomatoes, it hightlights heirloom tomatoes. And it tops these two stellar ingredients with fruity olive oil and a thick syrupy balsamic. Don't skimp on any of the ingredients in this recipe, and you'll finally get to taste heirloom tomatoes as they were meant to be enjoyed.
Get the Burrata and Heirloom Tomato Caprese Salad recipe by Foodiecrush
Want to read more from HuffPost Taste? Follow us on Twitter, Facebook, Pinterest and Tumblr.
Get more tomato recipes.
PHOTO GALLERY
Tomato Recipes