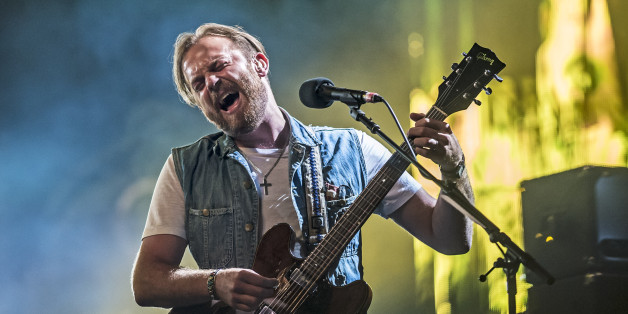 The following article is provided by Rolling Stone.
The last time the Kings of Leon started a major tour, they were arguably the biggest young rock band in the world, filling arenas on the strength of their huge hits "Use Somebody" and "Sex on Fire," from 2008's Grammy-winning Only By The Night. But the follow-up, 2010's Come Around Sundown, sold poorly in comparison. "I pretty much checked out for that record," singer Caleb Followill says now.
LINK: In Photos: Rolling Stone's List of the Greatest Rock Feuds of All Time
In a new Rolling Stone feature written by associate editor Patrick Doyle, the band open up about the rocky past two years leading to their new album Mechanical Bull, including a disastrous Dallas gig in July 2011 when Caleb Followill announced, "I'm gonna go backstage and I'm gonna vomit, I'm gonna drink a beer and I'm gonna come back out and play three more songs." He never returned; the band ended its tour early, canceling 26 dates.
LINK: Q&A: Kings of Leon Reflect on Their Struggles
Caleb says he felt blindsided by the band's comments following the incident ("Fucking hate Caleb not us," bassist Jared Followill said onstage). "I was fucking pissed," Caleb says. "I got on a plane and went to New York and was like, 'Fuck them,' you know. And, you know, it hurts. It hurt when I heard that, because I've always stood behind them. I stood behind them when we fucking walked offstage because of pigeons. I've always been like a one-for-all, all-for-one type. And when I heard that, I was like, 'Wow. Maybe it is time to step back for a while.'"
LINK: Rolling Stone's List of the 100 Best Songs of the 2000's: 'Use Somebody'
The bandmates didn't see one another until days later, when they met at a Nashville steakhouse. Several news outlets reported that the band ordered Caleb to rehab. When asked if this is true, Jared and Matthew Followill responded with long silence. "I can't say no one necessarily thought that," says Matthew.
LINK: Rolling Stone's List of the 30 Best Albums of 2010
"If they had, they knew I would have laughed at that," Caleb responds. He adds that he stopped drinking for nine months to prove to the band he could: "I have way too strong of a will to ever need to go somewhere."
LINK: In Photos: At Home with Kings of Leon

The Kings are back on the road supporting Mechanical Bull, and their goals have changed since their pop radio-dominating days. "Back then, we were trying to do something that people remember," says Caleb. "Now I'm trying to do something that makes my daughter proud. One day, hopefully I'll still be here, but if I'm not, she'll be like, 'My dad was fuckin' cool.'"
PHOTO GALLERY
FALL MUSIC PREVIEW 2013
BEFORE YOU GO